NoDak Nation sheds light on all sports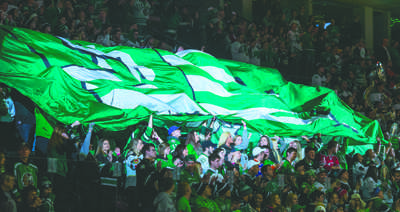 The UND student section holds the NoDak Nation flag during pregame festivities at a men's hockey game this season. Photo by Nick Nelson/The Dakota Student. 
For many incoming students, part of experiencing college life is participating in sports events. Those looking to get more involved with UND athletics will want to check out NoDak Nation once they get to campus.
Their office is located in the Memorial Union main floor next to the Stomping Grounds coffee shop. NoDak Nation is the official student-athletic booster club at the University of North Dakota.
It is $20 to join, and students gain points with every sporting event they attend on campus. The fans use the points to win various prizes such as gift certificates to local restaurants. Lucky fans can even win tickets to playoff games.
Last season, senior Matt Feinberg was a winner of tickets to the NCHC Frozen Faceoff playoff games at Target Center in Minneapolis.
"Around playoff time, The NoDak Nation account tweeted about a competition to win tickets to the Frozen Four held in Minneapolis, Minnesota." Feinberg said. "The competition was to tweet why you deserve the tickets and use the respective hashtag. I used a picture of myself and some buddies waiting outside the Ralph since the morning before the game and won."
Signing up has several benefits. Right away, fans get a free NoDak Nation shirt. They will also have first access to purchase season tickets. There are also several places that will give fans discounts around town for their membership.
To get points, students simply show their membership card at the NoDak Nation registration table at each game. Football and men's hockey are worth one point, men's and women's basketball and women's hockey are worth two points while baseball, softball and soccer are worth three points.
The rewards for loyalty points are five points for a choice of monster or chocolate chip cookie and choice of coffee, hot chocolate or a cappuccino from Valley Dairy. 10 points gets fans $10 to Deek's Pizza. 20 points earns students a car wash at Valley Dairy. 25 points and fans receive $15 to Deek's Pizza.
For 30 points, members get $15 to the UND Bookstore. Once they reach 35 points they receive a River Cinema movie package. 50 points will get fans a $20 gift certificate to The Blue Moose. Finally when one reaches 100 points, they will get a UND men's hockey jersey. These points reset at the end of every year.
These rewards are always subject to change, but the program will always reward loyal fans for showing up to different sports.
While everyone loves going to support men's hockey, the program really shines when it comes to sports that fans may not readily think of. Some of the best entertainment this athletics season came from the Betty Engelstad Arena where the basketball tems would put on a show on a nightly-basis.
For sports fans, this is an easy way to get free things for doing what they love: watching sports. New freshmen can show support for any of the UND sports next year and win prizes while they do it.
Adam Gunderman is a sports writer for The Dakota Student. He can be reached at [email protected]