Men and women's track give strong showing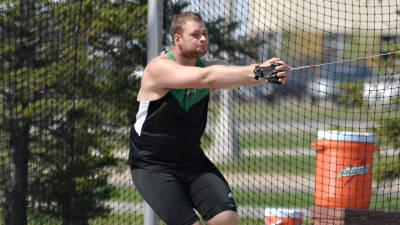 Senior Cody Mach took first place in the hammer throw with a distance of 175 feet, 11 inches. Photo by Emma Erickson/UND Athletics
Both the men's and women's track teams were on the road Tuesday at the Cobber Twilight meet in Moorhead, Minn.
For the women, it was more of the same. The team continued on their success from last Saturday at the Lyle Hokanson Classic and had another great showing.
The team was lead by Brainerd, Minn., native Anna Gessell. The senior won the 1,500 run with a personal best time of four minutes, 44.79 seconds.
Gessell was not the only runner who had a personal best time. Freshman Alyssa Anderson also had a great showing in the 1,500 with a time of four minutes, 52.95 seconds. Anderson placed fourth in the event.
To go along with the Fighting Hawks first and fourth place finishes in the 1,500, Lydia Lutz placed fifth with a time of four minutes, 57.95 seconds. Erin Wysocki placed seventh finishing with a time of five minutes, 11.82 seconds.
Junior Paige Melin set a personal record for the 5,000 with a time of 19 minutes, 16.19 seconds.
In the 800-meter run, the Fighting Hawks yet again found success. Meghan Janssen placed second and set a personal record with a time of two minutes, 20.16 seconds. Lutz also had a top 10 finish with a time of two minutes, 26.16 seconds which was good for sixth place.
For the throwers, senior Samantha Guenther finished sixth in the shot put. Her throw went 156 feet, eight inches.
But the Fighting Hawks women's team wasn't the only squad having success in the meet at Moorhead.
On the men's side, sophomore Scott Kvidera had a big day. The Minnetonka, Minn., native earned second place in the 800-meter run. He set a new personal best with a time of one minute, 54.88 seconds.
Joseph Fenstermacher also had a good day on the track as he placed fourth in the meet in the 800 with a time of one minute, 56.99 seconds.
The Fighting Hawks built off their success on the track with a solid outing throwing as well.
In the discus, Ian Collins placed fourth with a throw of 158 feet, five inches. Freshman Tyler Kolander threw for 127 feet, five inches which was good for ninth place.
Both the men's and the women's teams will be back in action on Saturday in Jamestown, N.D. at the Al Cassell Invitational.
This will be the last meet for both the teams until May 6 when they attend the NDSU Tune-Up in preparation for both the conference championship in Greeley, Colo., and NCAA tournament in Lawrence, Kan. and Eugene, Ore.
Adam Gunderman is a staff writer for The Dakota Student. He can be reached at [email protected]