A tale of two tournaments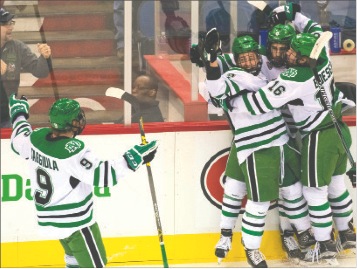 The Fighting Hawks struggled in the NCHC Frozen Faceoff but were dominant last weekend in the NCAA Regionals and are on their way to the Frozen Four. Photo by Nick Nelson/The Dakota Student
When the UND men's hockey team started the postseason, they did not resemble the NCHC regular season champions that dominated the regular season.
But since then, the Fighting Hawks have returned to form in the NCAA Regionals. The Hawks are in the Frozen Four for the third straight year and have a chance to capture their eighth national title.
"We're grateful to punch our ticket to Tampa," UND coach Brad Berry said. "It doesn't come easy or lightly. It's a process that we had to go through since the beginning of the season. Our guys believed. It's team-first, and I think you witnessed that this weekend."
As it has been the past three years, UND's road to the Frozen Four has not been an easy one.
The Hawks went into the NCHC Frozen Faceoff as the No. 1 seed but finished the weekend in a tie for third place after a semifinal loss to Minnesota Duluth and a tie with Denver.
In the loss to the Bulldogs, UND came out firing with forward Nick Schmaltz scoring on the first shot of the game. From there, a desperate UMD team took over the game and outsktated the Hawks for a score of 4-2.
Unfortunately, things did not get much better against Denver the next night. The third place game ended in a 1-1 tie where both teams had its sights set on the future.
UND is now 1-4-1 in the NCHC Frozen Faceoff over the last three seasons.
But then it was time for the NCAA Regionals, it was as if a switch flipped for the UND players.
The Hawks started last weekend in commanding fashion when they opened the tournament in Cincinnati with a 6-2 victory over a hot Northeastern squad. Even though the Huskies jumped out to a 1-0 lead in the first, UND dominated the rest of the game and limited Northeastern to two goals for the first time since early February.
The Fighting Hawks were also able to find their offense again as the team tallied six goals on 36 shots over the course of the team's victory.
"I thought our guys were sharp and they were all-in right away," Berry said. "It goes to the fact that these guys have a goal to get to. Tonight, we checked the first box."
The offensive dominance continued during the next game against the Big 10 champion Michigan Wolverines.
The Hawks spent the majority of the game in Michigan's zone, peppering the Wolverines with 24 shots in the first period and 49 over the course of the game.
The offensive pressure paid off as UND was able to pull away from Michigan 5-2.
Because UND players were able to refocus after a less-than-stellar opening to the postseason, the Fighting Hawks are now set to play NCHC rival Denver at 7:30 p.m. April 7 in Tampa, Fla.
Alex Stadnik is the sports editor for The Dakota Student. He can be reached at [email protected]