Final candidate visits campus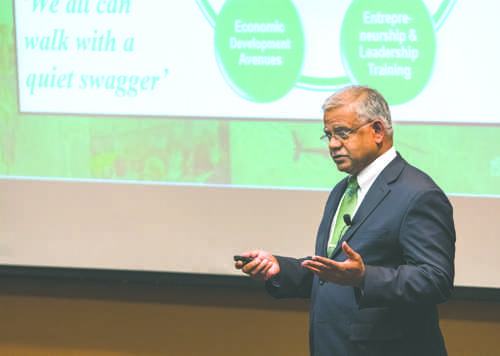 Nagi Naganathan was the sixth and final UND presidential candidate to visit UND's campus. Photo by Nick Nelson/The Dakota Student
The sixth and final UND presidential candidate, Nagi Naganathan, visited campus earlier this week.
Naganathan has been the dean of engineering at the University of Toledo since 2003 and under his leadership the college has achieved record breaking enrollment for the past 10 years. Naganathan believes he can foster this type of success at UND due, in part, to accomplishments such as this.
"When something is successful, it is truly successful only if the people who are contributing to it are able to say with conviction: 'I had something to do with that success,'" said Naganathan, referencing his philosophy of what creates a successful program.
Naganathan received his bachelor's degree in mechanical engineering from the National Institute of Technology at the University of Madras, India; his master's degree in mechanical and industrial engineering from Clarkson University in New York; and a Ph.D. in mechanical engineering from Oklahoma State University.
The cooperative work experience program at the College of Engineering at Toledo was used by Naganathan as an example of the specified success he has achieved.
Many people were skeptical of the program at its conception. Since the creation of this program, the  university has been able to achieve almost 17,000 placements and an average compensation for students of roughly $17/hr.
"This is an idea of something collaborative, transparent and scalable," Naganathan said. "That entire organization is self-sufficient. Our students went with me to the board meeting to support a fee because they knew the value proposition in this initiative. Accessibility is not simply how much you pay, it is what is the net value proposition."
Naganathan continued, addressing that some costs of education should be seen as investments.
"The cost of the education is minimized by the opportunities and the earnings associated with these positions," Naganathan said.
He went on to outline how accessibility and academic value are more complex than simply low tuition costs.
Naganathan said he would like to bring these values to a larger stage at UND, and he also noted  UND's accessibility and quality, which he believes can set UND apart from the rest.
"One of the things that is most appealing to me is how the university is placing emphasis on both accessibility and quality. I strongly believe these two should not be mutually exclusive qualities,"
Naganathan said. "I can see how the president of an institution could lead a transformation that even takes it to a different level of excellence."
Naganathan gave an anecdote about the level of excellence of Harvard and Yale, and how UND can be modeled after these examples.
"Every student going to Harvard or Yale does not become the president of the United States, but every student thinks he or she has the possibility," Naganathan said. "It is almost developing that mindset of success. People should never think that someone cannot measure up. If you know your stuff, and you know you know your stuff, you can walk with a quiet swagger."
Naganathan emphasized he would like to create an environment where upon a student's graduation "it doesn't matter who is sitting next to them, they can hold their own."
Naganathan exemplified the excellence he has created at the College of Engineering at Toledo University, pointing out that in the early 1990s more than 50 percent of engineering students did not become second-year students. Today, roughly 85 percent succeed in becoming second-year students. He attributed this to the combined effort of the engineering department coming together under his leadership.
Naganathan made unity another point of emphasis in his presidential pitch.
"One person cannot do it alone. It is about bringing the organization together," said Naganathan. "Everybody can say they have something to do with that success, and I think that is important for sustainable success in any organization."
Naganathan said in order to achieve sustainable success in any organization, everybody involved should be able to say that they had something to do with it.
As a first generation American who immigrated to the United States from southern India, Naganathan has lived in many different areas throughout his life. He mentioned his time spent in upstate New York, Oklahoma and Ohio as reasons why he would be able to adapt to an unfamiliar North Dakota.
"It is not a job; it is a responsibility. It is a lifestyle, and one of the important things is being relevant to the community," Naganathan said. "They would say, in Toledo, I am one of the most engaged deans in terms of how I am connected to
the community."
Naganathan also emphasized there needs to be a connection
between plans and action at the university.
"Whenever you take an initiative in a comprehensive university like the University of North Dakota you should not only have an idea," Naganathan said. "That idea must be implementable, scalable and collaborative so that many people will participate in making that idea or that initiative successful."
There will be a meeting today in which the Presidential Search Committee will choose at least three candidates who will be sent to the State Board of Higher Education. The SBHE will convene on Tuesday to make the final decision as to who will be the next UND president.
David Satre is the news editor for The Dakota Student. He can be reached at [email protected]