Noren makes pitch to UND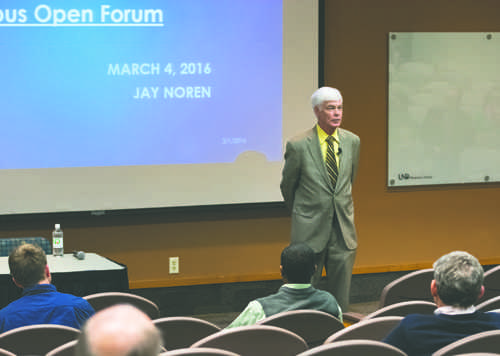 Dr. Jay Noren was the fifth of six presidential candidates to visit UND's campus. Photo by Nick Nelson/The Dakota Student. 
Dr. Jay Noren spoke to members of the UND community last friday at an open forum at the Memorial Union, making his pitch on why he should be the next president of UND.
Noren was the fifth of six presidential candidates to visit campus. He is unique among the applicants in that much of his previous work experiences stem from academic leadership in health sciences. His education is rooted in medicine as well; he received his M.D. from the University of Minnesota and has a masters in public health from Harvard.
He is currently the associate dean at the University of Illinois-Chicago College of Medicine and School of Public Health.
Prior to his current position, he served in administrative roles at a variety of institutions, located both throughout the country and abroad. He was previously the president of Wayne State University in Detroit, Mich., and held leadership positions at the University of Nebraska, Khalifa University in the UAE, Texas A&M and the University of Wisconsin, among others.
Noren opened his presentation at the forum by mentioning that it felt like he was coming near to home; he grew up in rural Minnesota, vacationed near Grand Forks as a child and attended school in Minneapolis. He started his talk with what he saw as the strengths of UND.
"I think one of the real powerful strengths of UND is the statewide engagement. Very powerful, very significant, and that's would a flagstaff should be," Noren said, noting UND was able to provide a high level of education at an affordable price for students, in part due to the support UND gets from the state government relative to its peers.
He lauded UND's variety of academic programs and strength in online programs, but he also commented that general education and the liberal arts are an important part of supplementing other fields of study.
"I think it's increasingly important especially as we tend to focus more on STEM, it's critically important that general education is powerful," Noren said.
Noren said the UND is fortunate to receive a high amount of support from the state government and having strong fundraising would be an important part of making sure UND has a sustainable incoming revenues going forward. Developing ties with alumni and university supporters would help with future efforts to raise money for scholarships, according to Noren.
When fielding questions from the audience, Noren spoke about his experience dealing with the budget at Wayne State during a time when Michigan's economy suffered from a downturn in the auto industry. He compared this experience to the situation UND is currently experiencing.
The issue of communication with the campus community was also raised by a member of the audience, and Noren stressed that he would strive to be very involved on campus if selected to be president.
"I think that one of the real leadership characteristics that are elements of success in higher (education) is exactly what you said. It's communication from the leadership. Communication needs to be two way," Noren said.
He spoke about the importance of using technology and forums to communicate and the necessity of being a visually present and personal leader.
Noren said that he first began his involvement in higher education leadership after he received the Robert Wood Johnson Health Policy Fellowship to work for a year for a member of the House of Representatives in Washington D.C.
He took on some government relations responsibilities at the University of Wisconsin when he returned as a faculty member, and when the vice-chancellor at Wisconsin retired, Noren transitioned into that position.
On campus today is the sixth and final presidential candidate, Nagi Naganathan, who is currently the dean of engineering at the University of Toledo. Following his visit, the Presidential Search Committee will recommend at least three finalists to the State Board of Higher Education.
Sean Cleary is the editor in chief for The Dakota Student. He can be reached at [email protected]