Elias addresses student senate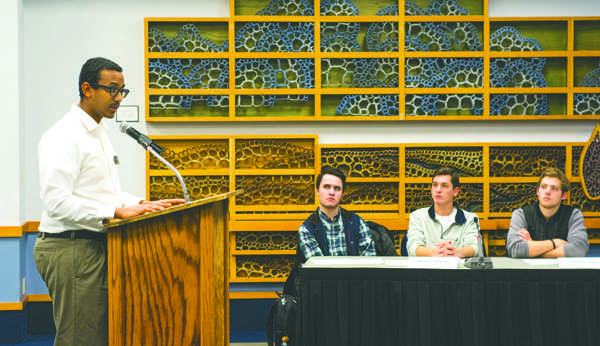 Ombudsman Henok Elias spoke to UND Student Senate about his new role at UND. Photo by Nick Nelson/The Dakota Student
Henok Elias, the new ombudsman at UND, spoke to UND Student Senate last week about his role at the university and what exactly an ombudsman does.
"UND's mission statement talks about disseminating knowledge at every level – all staff, students, faculty, administration and leadership – have this common goal of making sure knowledge is disseminated  at many places as possible, particularly because this is a research university," Henok said. "One of the things that gets in the way of that is how we interact with each other. All of us have differences. The question is: How do we respond to those differences?"
Elias has a bachelor's and master's degree from Pepperdine University in California, and he became the ombudsman of UND in January.
The Ombuds Office is a free, voluntary and confidential service for faculty, staff and students. As ombudsman, Elias will serve as a conflict mediator between parties on campus, assisting them with resolving issues and navigating disagreements.
"The ombudsman office came, not to replace any one single function of university, but to compliment it in its entirety," Elias said. "By facilitating peace in everyone's daily life, you send ripples that go throughout the university."
The UND Ombuds Office is located in 314 Cambridge St., Room 201, and is open from 8 a.m. to 4:30 p.m., Monday through Friday. Visit http://und.edu/ombuds for more information.
Brandon Beyer, student government treasurer, brought up concerns that the Student Organization Funding Association will shortly be out of money, and further discussions will be needed to appropriate more money if it is deemed necessary.
Additionally, Beyer updated the Student Senate that SME Inc. is the firm that was recommended to President Schafer to design the new "Fighting Hawks" logo.
"It's a pretty exciting process for them they are very and talented and have done situations like this several times over," Beyer said. "They're know what they're doing and going for it, we're pretty confident in them."
Senators brought up concerns that students are potentially being double charged for online class student fees, as well as the high fees that accompany certain online courses. A resolution was adopted to further examine the issue, and Student Body President Matt Kopp said that the university was currently in the process of making the fees more transparent and reviewing the tuition fee structure.
Also discussed was the formation of a committee to plan the potential addition of a statue to UND's campus. While the specific statue has not been determined, the point of the committee would be to start the process, with the end goal being to determine a statue that helps to boost campus culture at UND following the change in nickname.
Sean Cleary is the editor-in-chief for The Dakota Student. He can be reached at [email protected]