Burgum makes pitch to Grand Forks voters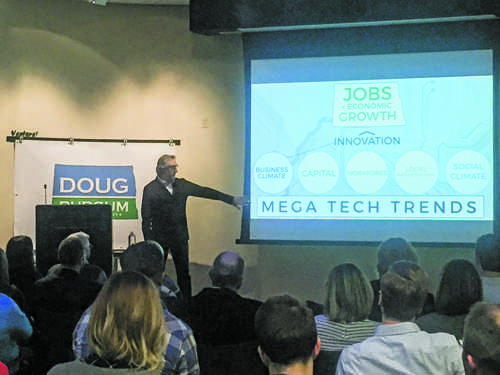 Doug Burgum discusses his run for governor at the UND Center for Innovation. Photo by Sean Cleary/ The Dakota Student
Doug Burgum met with members of the Grand Forks community at UND's Center for Innovation this past tuesday to discuss his campaign for governor.
Burgum, who is running for the Republican nomination, was born in Arthur, North Dakota and attended school at NDSU. He went on to earn his MBA at Stanford business school before working as a consultant at McKinsey & Company in Chicago.
He returned to North Dakota to join Great Plains Software in 1983. As the first outside investor, he provided seed capital to the start-up and became chairman and CEO. The company was sold to Microsoft in 2001 for $1.1 billion, and Burgum worked as vice president for Microsoft at the Fargo campus until 2007.
"The legacy of that, and one of the greatest things you can leave a community, is great high paying jobs," Burgum said, describing the impact of Microsoft's Fargo campus on the local community.
He founded Kilbourne Group, a company focused on developing cities through vibrant downtowns, in 2006. He co-founded Arthur Ventures in 2008; the venture capital fund invests in ambitious software companies located outside of Silicon Valley. Additionally, he serves as chairman of the board and investor of Atlassian, board member of Avalara, and executive chairman of the board of Intelligent InSites.
"
"I think the combination of the crossroads North Dakota is at from a budget standpoint and the crossroads the world is at from a technology standpoint, I felt like this was the biggest place I could have an impact.""
— Doug Burgum
In 2009, Burgum was awarded the Roughrider award by then-governor John Hoeven. The award is presented annually by the governor to honor North Dakotans who achieve national recognition in their respective fields.
In his speech, Burgum described that the wide application of new software has made many industries more efficient, including agriculture. He discussed how his private sector experience and the application of technology could help streamline government services.
"We're doing this with animals for cents on the dollars, and yet we aren't doing this with a number of government services where we could be applying these things," Burgum said.
Burgum also talked about how he would address the budget outlook of the state. Earlier this month, state agencies were ordered to cut their budgets by 4.05 percent and the reserve funds were used to cover the remaining budget shortfall. This shortfall was caused in part to a decrease in oil and commodity prices, which in turn led to lower than expected tax revenue.
"This is not a belt tightening exercise. We have to reinvent the way we deliver," said Burgum. "This is really chance for us reassess our priorities and figure out which services are essential and which investments have the greatest returns on investment."
Throughout his speech, Burgum touched on a variety of topics that are relevant to students and young professionals, including improving the job market for graduates and limiting student debt.
"One thing that is weighing down innovation is student debt," Burgum said. "The North Dakota number is more like $27,000 on average student debt that kids are coming out of school with. This is causing people to think 'Hey I have to get a job" versus doing a startup because they have this overload of debt they have to worry about."
In an interview with the Dakota Student, Burgum elaborated on how the state could increase the amount of young people who stay in North Dakota, as opposed to moving out of state to find work.
"There needs to be interesting things for people to work on. Young people want to work on things that are going to have an impact on the world, they want to make a difference in the world," Burgum said. "We have to build communities that are attractive to young people and have  opportunities for them."
Burgum has spent his career working in the private sector, and during his speech he made comparisons to former governors Ed Schafer and John Hoeven who both transitioned successfully from working outside of government to leading the state as governor.
He linked his experience as a CEO to the role the governor plays in leading the state, and the idea of being able to better the state as its chief executive is part of what prompted his run for governor.
"I love North Dakota. I've chosen North Dakota multiple times throughout my career," Burgum said. "I think the combination of the crossroads North Dakota is at from a budget standpoint and the crossroads the world is at from a technology standpoint, I felt like this was the biggest place I could have an impact."
Burgum is running for the Republican nomination for Governor against current Attorney General Wayne Stenehjem and state legislator Rick Becker (R-Bismarck).
The Republicans have their state convention to nominate statewide candidates on April 1. Burgum has stated that he plans on running in the June primary in the event that he does not receive the party's nomination in April.
Sean Cleary is the editor-in-chief for The Dakota Student. He can be reached at [email protected]