Pi Kappa Phi closed at UND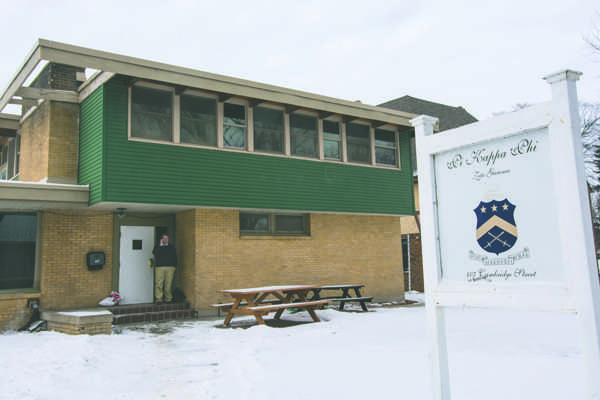 Pi Kappa Phi announced the closure of its UND fraternity house, pictured here. Photo by Nick Nelson/The Dakota Student
The Pi Kappa Phi fraternity  chapter at UND has been ordered to close by its national headquarters due to lack of members and academic difficulties, but hopes are high among current students and alumni that the chapter will be able to reopen in Fall 2018.
On Jan. 29, fraternity president James Ziliak received a call notifying him that the fraternity would be closed at UND, and the national headquarters sent out an email to members and alumni shortly after.
"Our minimum requirements to have a chapter is 25 members and it's now a 2.7 (GPA). We had a 2.63 and 17 members on deck. From years and semesters passed we've not met the requirements," Ziliak said, describing the circumstances behind the fraternity's close.
The fraternity members will still be living in the house until the end of semester, and discussions are taking place as to what exactly to do with the house after that.
While membership at the fraternity had been higher several years ago, they slowly began to lose members through members graduating, transferring or choosing to withdraw from the school, according Robb Jeffries, a spokesman for the chapter's alumni organization.
While the news of the chapters close was surprising to Jeffries, he was still optimistic that the fraternity would be able to reopen in the future and contribute to campus life at UND.
"The goal is to recruit kids (to the fraternity) and help them become men," Jeffries said.
As of now, the goal is reopen the house at UND in the Fall of 2018, Ziliak said. They plan on waiting until closer to the reopening date to start recruiting potential members. Ziliak also mentioned that the national headquarters provides assistance to help chapters reopen.
"We can recharter starting in 2018 fall semester. Right now, we're focusing on finding founding fathers for when we recharter," Ziliak said.
Ziliak said that while they can't use the name of their fraternity while it is closed, they still plan on participating in the philanthropic work that the fraternity usually is involved in, including the Abilities Experience's Journey of Hope.
The Abilities Experience is a philanthropy operated by Pi Kappa Phi, and the Journey of Hope is a bike trip that takes place across the country to raise money to assist people with disabilities.
"Once you're an initiated member you're always affiliated with Pi Kappa Phi even if your charter gets revoked," Ziliak said. "You're still a Pi Kap forever, unless you get your pin revoked."
Ziliak is confident the fraternity would be able to establish a chapter at UND if they are able to get recruiting numbers up.
"Pi Kappa Phi has had a long run of success up until now," said Ziliak  "So it's now doubt that Pi Kappa Phi would be allowed back on campus if we decided to come back."
There are close to 435 Pi Kappa Phi alumni from UND, according to Ziliak, and he is optimistic they will be able to help when the chapter goes through the rechartering process.
"It does suck for the active members since we were so young and had to go through this, but we're all going to stick together," Ziliak said "We're still brothers through and through."