Former UND chairman takes plea deal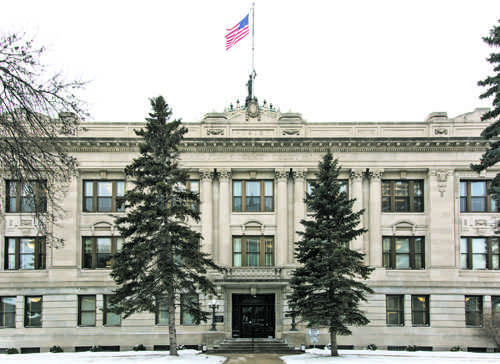 Robert Beattie was originally charged at the Grand Forks County Courthouse, pictured above, for possessing child pornography. His case has since been transferred to the federal court system. Photo by Nick Nelson/The Dakota Student
Former UND department chairman Robert Beattie plans to plead guilty to distributing and collecting child pornography this past Tuesday.
Beattie submitted a plea deal regarding two charges; one count of distributing child pornography and one counting of possessing child pornography.
Both have a maximum sentence of 20 years and a $250,000 fine, meaning Beattie could spend up to 40 years in jail. The distribution charge resulted in a minimum prison sentence of at least five years.
According to the plea agreement, there are several upward adjustments to the potential sentencing that are applicable in the case due to specific characteristics of the crimes. There will be a smaller downward adjustment based on Beattie's acceptance of responsibility and timeliness of the guilty plea.
Beattie was originally charged with 10 counts of possession of child pornography in Grand Forks District Court in August of last year. These initial charges were dropped when Beattie was charged in federal court.
According to court documents, police first began investigating Beattie after receiving multiple tips from the National Center for Missing and Exploited Children over the summer of last year. The NCMEC is a national organization that works with law enforcement authorities to help them investigate the sexual exploitation of children.
Beattie was initially served the search warrant at his office in the Medical School last August, and at the time he also turned over a thumb drive containing child pornography to police.
Beattie was chairman of the UND Family and Community Medicine Department. He was put on administrative leave following his arrest and is no longer employed at UND, according to UND spokesman Peter Johnson.
Assistant U.S. Attorney Jennifer Puhl, a UND alumna, is prosecuting the case. Puhl was recently nominated by President Barack Obama to serve on the United States Court of Appeals for the Eighth Circuit. Her nomination is currently pending confirmation by the U.S. Senate.
Sean Cleary is the editor-in-chief for The Dakota Student. He can be reached at [email protected]