And then there were seven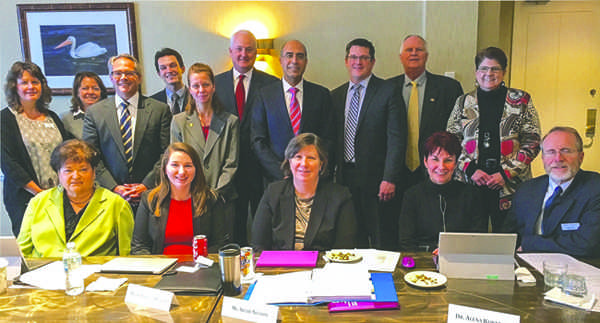 Members of the Presidential Search Committee interviewed 16 of the candidates earlier this week in Minneapolis. 7 of them were chosen to visit UND for the next round of interviews. Photo courtesy of UND
Seven semi-finalists have been selected to advance to the next round of interviews to become the next president of UND.
Earlier this week, the UND Presidential Search Committee interviewed 16 candidates to be the next President of the University of the University of North Dakota. The interviews took place over the course of Monday and Tuesday in Minneapolis.
This group of candidates were selected by the committee from an original group of 41 applicants. Following the interviews this week, the list had been narrowed to the following seven candidates:
• Dr. Mark Rudin, vice president for research and economic development at Boise State University, Idaho
• Dr. Jay Noren, associate dean, College of Medicine at University of Illinois in Chicago and former president at Wayne State University
• Hon. Mark R. Kennedy, director of Graduate School of Political Management at George Washington University in Washington, D.C.; and former congressman (2001-07)
• Dr. Nagi G. Naganathan, dean, College of Engineering and Interim President (2014-15) at University of Toledo, Ohio
• Dr. Daniel L. Clay, Dean, College of Education at University of Missouri
• Dr. Morgan R. Olsen, executive vice president, treasurer and chief financial officer at Arizona State University
• Dr. Steven Shirley, president of Minot State University, N.D 
There has been some controversy with the process, however.
In an interview with the Associated Press, Cynthia Lindquist, current president of Candeska Cikana community College in Fort Totten and adjunct faculty member at the UND medical school, said that she was considering filing a lawsuit over the fact that she was not considered for the position while a male candidate with similar experience was.
Lindquist earned bachelors' degree from UND in Indian Studies and English in 1981, as well as a doctorate in educational leadership from the university in 2006. She was awarded an alumni achievement award from UND in 2012.
Steven Shirley, current president of Minot State, is also a graduate of UND. He earned  a bachelor's degree in business, and MBA, and his doctorate in teaching and learning all from UND. He is originally from Fargo.
"I was highly impressed with the level of experience that these individuals brought to our search and the specific qualifications each one has to meet the needs of our students and build our campus legacy into the future," UND Presidential Search Committee Co-Chair Hesham El-Rewini said in a statement. "We look forward to each candidate visiting our university to meet our faculty, staff, students and community members. These visits will be essential in showcasing our beautiful campus and engaging our various constituents in the process."
The seven candidates selected from the interviews in Minneapolis will visit UND for the next round of interviews. Their visits will be scheduled between February 11 and March 3. During their visits they will meet with the search committee as well as other university constituencies.
After the semi-finalists' visit campus, the search committee will solicit feedback from the UND community in order to gain further input from students, faculty and staff. The Presidential Search Committee's final meeting will be on March 7, at which point they will recommend a small group of finalists to the State Board of Higher Education.
The SBHE is scheduled to make the final decision on March 15. The selected candidate will take over as president before Interim President Ed Schafer's term is finished at the end of June.
Overall, the committee seemed optimistic about the results of the search so far.
"We are pleased with the wealth of experience embodied by the candidates of this presidential search," UND Presidential Search Committee Co-Chair Grant Shaft said in a statement. "As we progress through the next phase of this search we are confident that we will discover who will be the best fit to serve the campus and community."