Pasch brings vibrant experience to UND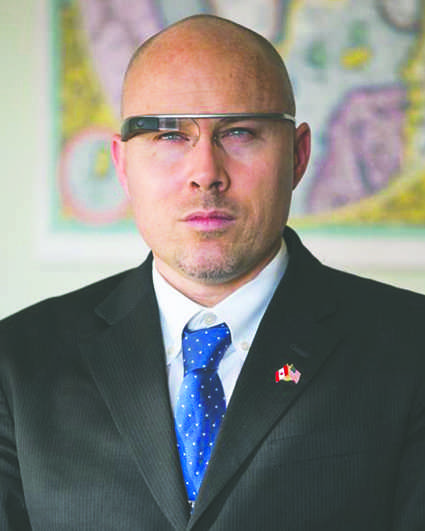 Dr. Timothy Pasch is an Associate Professor with a unique and colorful background in the field of communications and international diversity.
While Pasch is an instructor many students on campus have likely had the pleasure of taking a class with, few people may know about the bountiful experience and vibrant cultural education he brings to the University of North Dakota.
Pasch has lived in various places all across the world and earned his Ph.D. in Communication from the University of Washington. He speaks fluent Japanese and French and has also studied the elusive Inuktitut language as well.
Since Pasch arrived at UND, he has contributed a significant amount not only to the communications department at the University, but globally as well.
Pasch is a duel U.S/Canadian citizen and has a rich family heritage deriving from Manitoba. With strong Canadian ties, Pasch has progressively become a vocal advocate for the people of the Canadian Arctic.
During his time at the University of Washington, Pasch became involved with the University's Arctic Studies Program. He received a grant funded by the Embassy of Canada to spend time living with a native Inuit family in the Canadian Arctic in North Quebec.
While living with the Inuit family, Pasch was able to conduct valuable research and had the chance to experience life in the Artic first hand by going on hunting trips and fishing expeditions with his Inuit family. In addition to living in the Canadian Arctic, Pasch also had the unique opportunity to study the Inuktitut language.
Pasch describes his experiences in the North as a "wake-up call" as many native people are slowly losing their culture as an effect of global warming, language loss, economic change and media influences. When Pasch came to see how many traditions were in danger of completely being wiped out, he decided to act using his knowledge and expertise in the field of communications.
"In the Arctic I felt more than anywhere else to that point, that with my digital and cultural experience, and growing ability in Inuktitut, that I could help to make a difference." said Pasch.
Since Pasch has become involved and has reached out to the Inuit community, his endeavors have been challenging but also very worthwhile. Pasch has been associated with creating programs such as app development and Arctic UAS policy analysis.
"Working and teaching with Inuit youth and elders has been one of the most rewarding and fulfilling initiatives that I have ever been a part of in my entire life." said Pasch.
In addition to the Inuit culture, Pasch is also very involved with Japanese culture and language. Before pursuing a master's degree, Pasch accepted an opportunity to live and teach in Kyoto, Japan where he lived for nearly three years studying various aspects of Japanese language and culture.
During his time in Japan, he earned his first-degree black belt in Aiki-Jujitsu and studied Japanese archery while studying the literature and philosophies that accompany these art-forms.
Pasch has been speaking Japanese now for just over fifteen years and continues his activism for the language as he exclusively speaks Japanese at home with his wife Saori and his two sons Kai and Riku.
"It is very important for us that they are fluent in English and Japanese." Said Pasch.
"We travel to Japan each year where my family stays between 2-3 months and our sons enroll in school in Japan during this time."
In addition to his academic, family and international contributions, Pasch is well travelled and takes the opportunity to see new places whenever he can.
When travelling, Pasch says he likes to stay in a country as long as he is able so he can absorb the local culture.
"I prefer not to be a "tourist" but rather to experience life in that location and work as hard as I am able, to speak the language." said Pasch.
Traveling offers Pasch a unique experience and cultural perspective, which he carries with him as a professor and advocate for ethnic understanding. Pasch has traveled to many locations around the world including France, South Asia, Japan, Northern Canada and many other destinations across the globe.
"It is my hope to create communicative moments of clarity and understanding, despite language barriers that may exist." said Pasch.
While Pasch has an impressive international and education background and is also very well traveled, he believes that being a faculty member at UND is one of the most rewarding positions that he could hold.
"Where else can someone who is passionate about aspects of their lived and learned experiences, enjoy the opportunity to share this information with many enthusiastic young people who seek to learn and benefit from this teacher?" said Pasch.
Pasch continues to apply his experience and passion for the field of communication to inspire those he teaches and to further advance international connections.
Pasch says, "I am entirely grateful to my students both for their patience with me, and also for their interest and engagement with the knowledge that I have gained, that I hope to continue to share to the very best of my ability moving forward"
Amanda Hefner is a staff writer for The Dakota Student. She can be reached at [email protected]