Discovering Pakistan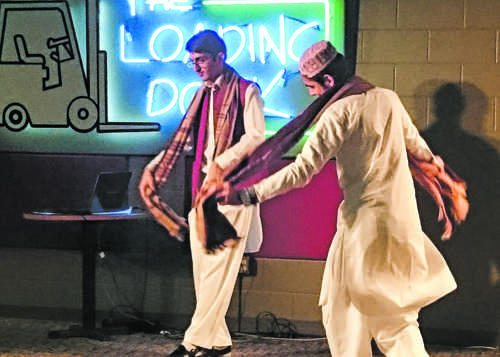 Mahander Dev leads a group of students in a traditional dance. Photo by Alex Bertsch/ The Dakota Student.
Members of the UND community gathered last week to celebrate Pakistan Culture Night in the Memorial Union.
The event offered an opportunity for attendees to learn more about Pakistan.
It opened with the Pakistan's national anthem, the Qaumi Taranah ("The Sacred Land"). Kaleemullah Sandhu, a Pakistani exchange student studying mechanical engineering at UND, gave a presentation on life in Pakistan.
Pakistan became an independent country in 1947, and more than 95 percent of the population of Pakistan is Muslim. With a population of just under 200 million people, it is the seventh most populous country in the world. It borders India, China, Afghanistan, Iran and the Arabian Sea.
Sandhu clarified that while many people think people in Pakistan speak Arabic, the national language is actually Urdu. English is widely spoken and there are dozens of local regional languages. The name Pakistan means "Land of the Pure" in Urdu.
"The Pakistani flag, the green portion represents that Pakistan is a Muslim country, and the white portion represents the minorities," Sandhu said. "The flag symbolizes that we respect the minorities that live in Pakistan."
Sandhu studies at the National University of Science and Technology in Islamabad, which is the capital city of Pakistan. The country is home to more than 170 universities.
A music video of the song "Tamasha" by Khumariyaan was played to show an example of popular modern music in Pakistan. The group is known in Pakistan for their ability to combine traditional folk style of pakistani music with a modern twist.
Sandhu highlighted several well known Pakistanis, including Abdul Sattar Edhi and Abdus Salam. Edhi is considered to be one of the greatest humanitarians in the world and has been running his foundation in Pakistan since 1947.
This foundation includes many initiatives to help the poor and sick, including the largest ambulance service in the world. Salam was the first pakistani to receive a Nobel Peace prize, which he received for his study in physics in 1979.
Mahender Dev, an electrical engineering exchange student from Pakistan, led a group of students in a traditional dance to conclude the presentation. Ifrah Wali, a marketing student at UND, displayed some Pakistani clothing for attendees to examine after the presentation. Dev, Wali and Sandhu all expressed the positive experience they have had so far at UND, and they will be returning to Pakistan at the end of the semester to finish their studies in Pakistan.
Following the presentation, the attendees enjoyed Chicken Biryani, rice, and Kheer. Chicken Biryani, like other popular Pakistani cuisine, is spicy and highly seasoned. Kheer is a a sweetened rice pudding that is commonly served through south Asia.
Sean Cleary is a staff writer for The Dakota Student. He can be reached at [email protected]