Soccer continues its slide against ISU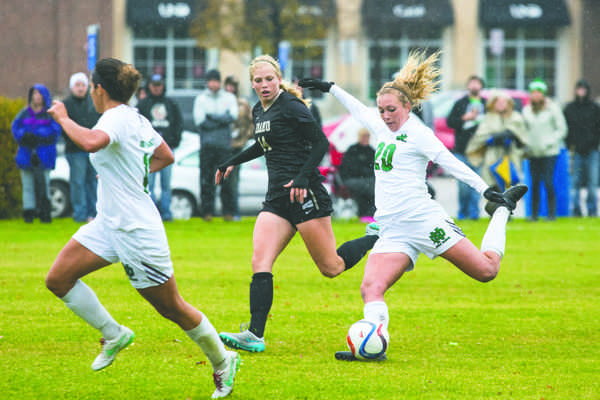 UND forward Katie Moller prepares to punt the ball against Idaho State this weekend. Photo by Nick Nelson/ The Dakota Student
UND lost its game to conference leaders Idaho State University 4-0 Friday afternoon. The win made it eight in a row for Vandals.
After staying with the conference leaders for the first half of the game with a 0-1 score, UND could not overcome Idaho State in the second half when ISU scored three more goals to push their lead to four goals.
A bright spot for this game, as well as the season, is the emergence of freshman goalkeeper Olivia Swenson. Swenson saved nine shots Friday, eight of which came in first half which kept UND in the game. On the season, she now has 151 saves, which is the school record.
After keeping the Vandal offense at bay for the first half of the match, Idaho State scored in the 53rd minute to give themselves a 2-0 lead. They never looked back after that. They made it 3-0 about ten minutes later and 4-0 ten minutes after that.
"I think we ran into an Idaho team that is extremely organized and that showed in the execution on their dead ball situations," UND coach Matt Kellogg said. "Quite honestly, this was one of those games that the score genuinely doesn't reflects the game. They got three of their four goals on dead balls and those are tough to defend on sloppy conditions like this. I was very happy with our players. We carried the play very well, we stuck to the game plan and it's tough to match up with a kid that six inches taller on a dead ball."
Before this game, ISU's offense was on a tear. The Vandals had scored 11 goals in their previous three matches. UND's defense had to work hard along with Swenson to hold off explosive Vandal offense.
With this loss, the Green and White fall to 4-10-2 after a promising 3-2 start.
UND will head to Washington for a match against Eastern Washington Sunday October 25. They have their next and last home match October 30 against Colorado.
Adam Gunderman is a staff writer for The Dakota Student. He can be reached at [email protected]