UND career fair jumpstarts student networking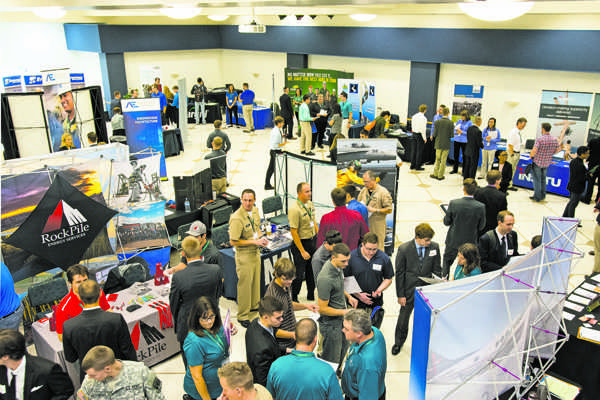 Students meet with potential employers at the career fair in the 2nd floor of the Memorial Union. Photo by Nick Nelson/ The Dakota Student
Networking can sometimes be difficult for the average college student, but it can be an important step towards getting a foot in the door for job opportunities after graduation.
Last week, students had the chance to connect and network with over 80 different companies and potential employers at the UND Career Fair.
The career fair is an annual event Career Services offers to students in fall and spring semesters. The event is geared toward providing students a chance to connect with companies that offer internships, co-ops and career jobs.
Some of the companies that were in attendance at the event included Anderson Windows, Piedmont Airlines, Amazon, Target, Bobcat, Simplot, UTC Aerospace and Microsoft.
At the career fair, students were able to personally talk to numerous company representatives, give potential employers their resumes, make a face-to-face impressions and make valuable contacts in their field. The fair also offered a free photo booth for students to take professional photos for their LinkedIn accounts.
While many students may have been feeling the pressure of the professional environment, Director of Career Services Ilene Odegard said. "This event is not for finding the perfect position. This is an opportunity to network early in your college career and build valuable experience."
With the opportunity to talk and connect with a wide variety of company representatives, many students gained new familiarity about professional networking.
"We hope that students can build their confidence talking to the employers," Odegard said. "This experience is perfect practice for job interviews."
Many of the representatives at the career fair also encouraged students to build on their skills and experience.
"My favorite thing about the career fair is getting to coach students and give them advice," Northern Technologies Inc. company representative Sarah Link said. "I love this event because it gives students an opportunity to start presenting themselves professionally and practice networking in a less stressful environment."
Along with offering valuable advice and practice to students, many companies also were offering a wide variety of internship opportunities exclusively for UND students.
The city of Grand Forks has set up a collaborative program with the University of North Dakota through Career Services that offers summer internships to students.
"We have worked hard to set up a professional network between the city of Grand Forks and UND," city of Grand Forks representative Linsey Rood said. "We are now able to offer a great number of individual and public intern projects for students to help them gain professional knowledge."
If students are interested in attending the career fair, there will be another event in the spring semester with a wide variety of corporate and local businesses in attendance.
"Stop in even if you feel you don't have anything in common with the businesses," Odegard said. "You never know who you might make a connection with."
Amanda Hefner is a features reporter for The Dakota Student. She can be reached at [email protected]