Master planning process begins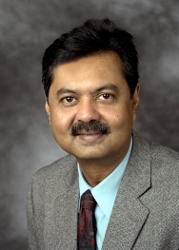 Dave Chakraborty's faculty picture. Photo courtesy of und.edu
UND announced this Tuesday that it is beginning a process to implement a Campus Master Plan. This plan will set the framework for future development of the UND campus.
The university is currently preparing for the initial phase of this multiphase process. "The initial phase, which will be completed no later than February 2016, will focus solely on information gathering, analyses and defining frameworks for select capital projects and financial requests during the next legislative session,"An email sent out by the university stated.
This planning effort is being led by Dave Chakraborty, who is the associate vice president for facilities and management at UND. At the  Chakraborty is the chairman of the UND Master Plan Steering Committee, which is composed of 16 members of faculty, staff, and other stakeholders, including UND Student Body President Matthew Kopp. This committee will meet multiple times throughout the planning process and present the final results of its work to the UND President's Executive Council.
According to UND's website, the steering committee will make recommendations on the following:
-Perform initial review of space utilization and discuss additional space needs
-Review work already developed on repurposing of the existing medical school and make recommendations
-Prioritization of classrooms slated for renovation each year
Additionally, the steering committee will be advised by Gary Hay of Hay-Dobbs Architecture, Planning, and Interiors Firm. Hay has previously worked as a consultant with UND in a similar capicity.
The development of this plan stems from a directive from the State Board of Higher Education that called for all universities in the North Dakota University System to file a master plan with the SBHE. These plans are due to the SBHE by April 1, 2016.
The Master Plan steering committee will be holding forum sessions on Oct. 19 in the Memorial Union River Valley Room. These forums will present a chance for students to learn more about the master plan process and past campus developments in recent UND history.
There will be presentations on the steering committee's work at 11:00am, 1:00pm, and 4:30pm on the 19th.
Students who are interested in the master planning process are encouraged to attend the forum sessions and to visit UND's website for further information.
Sean Cleary is the news editor for The Dakota Student. He can be reached at [email protected]