Rhombus Guys prepares to expand its presence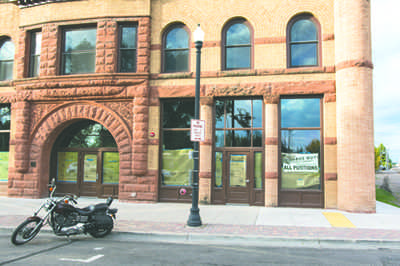 The location of the new Rhombus Guys Brewing Company, 116 S. 3rd St in downtown Grand Forks. Photo by Nick Nelson/ The Dakota Student
Rhombus Guys Pizza is a well-known local college hot spot many UND students have frequented at one point or another. Now, in addition to selling pizza, Rhombus Guys is currently taking on a brand new project that has already acquired a lot of interest from members of the community.
This attracting new development is the formation of Rhombus Guys Brewing Co. — a brand-new brewpub that will be located in downtown Grand Forks just a couple blocks from the original Rhombus Guys restaurant. Soon, all of those over twenty-one will have a chance to indulge and sample a unique selection of craft beers brewed right here in Grand Forks.
Currently, there is no official opening date for the brewery, but when doors do open for business Rhombus Guys Brewing Co. plans to offer a vast number of original beer selections.
Over the past couple months, Head Brewer Chad Gunderson has been creating a medley of different recipes for the downtown brewpub. Gunderson developed all of the beers that will be offered at the brewing company through a number of pilot batches and taste tests, taking careful notes about the beers' head, color and taste. When the brewery opens, Gunderson hopes to have around eight types of beers ready right off the bat, ranging from lighter ales to India Pale Ales to darker flavors.
While the concept of a craft brewery is new to Grand Forks, Gunderson and the Rhombus Guys staff are confident in their creation. According to the Grand Forks Herald, Gunderson is still getting a feel for the Grand Forks market and what kinds of beer people here might prefer, but he said developing a distinctive IPA will be important, as will having a lighter beer for people who are used to beer like Bud Light.
"They know what they like to drink," Gunderson said. "We go back to the drawing board and kind of add different malts or different hops."
Even though this original brewery is still a busy work in progress, Rhombus Guys is anticipating a warm and excited welcome from the community.
If students are looking for a way to get involved with the new company, Rhombus Guys Brewing Co. is currently hiring and taking applications for all positions to staff their new location. Students can apply through the Rhombus Guys website and find more information about building progress and employment positions on the Rhombus Guys Facebook page.
Amanda Hefner is a features reporter for The Dakota Student. She can be reached at [email protected].