Welcoming the Pope to America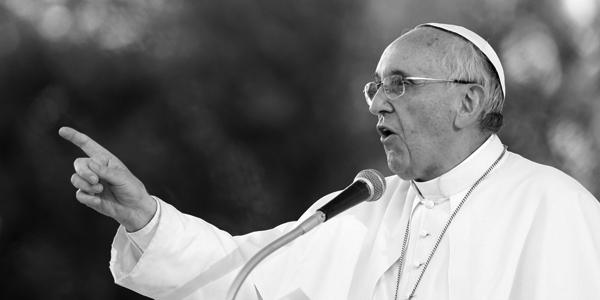 Pope Francis speaking in Argentina. Photo courtesy of hufingtonpost.com
This upcoming week Pope Francis will visit the United States. His first stop will be in Washington DC where he will meet with the President, address Congress and canonize Blessed Junipero Serra as a saint.
Statements that the Pope has made on social, political and economic issues throughout his tenure have spurred many conversations and arguments. For many young people, Pope Francis is the first Pope that has had a marked influence on their daily lives, regardless of their faiths. The Pope's role in shaping American political discourse can not be ignored.
Pope Francis has made many bold claims on a variety of topics, from income inequality to climate change. This foray into public policy has flummoxed some, as many see these sorts of judgements as outside the Pope's purview of theology.
These statements have at times caused a rift in the way modern American political parties have aligned themselves. While normally social conservatives are associated with the Republican Party due to their views on marriage and abortion, the Pope's focus on other issues has made this division less neat.
Because the Pope has gone at great lengths to make his views known on many political topics, politicians have jockeyed to use his statements to validate their policies.
The Pope's visit to the United States provides us with a great opportunity to open our hearts and minds to one of the most truly influential figures of our day. Whether one is Catholic, Protestant, Muslim, atheist, or any other religion, the Pope has already succeeded at getting the people of the world to take a deeper look at their own beliefs. Not just on matters of faith, but also in the way that they act on their values and principles.
Pope Francis' visit to America will only build on the great work that he has done so far during his relatively short time as Pope.
As much as the Pope's statement leave some room for interpretation, there is no denying that he is calling out many specific problems in the world. He has mentioned climate change and income inequality repeatedly. Most recently he has urged the world to push for peace in Iraq and Syria as a wave of immigrants moves through Europe.
However, a call to action on the issues is much different than actually solving them, as even Pope Francis admits. In his most recent encyclical, Laudato Si, Pope Francis states "On many concrete questions, the Church has no reason to offer a definitive opinion, she knows that honest debate must be encouraged among experts, while respecting divergent views."
This is something to keep in mind as politicians and pundits make claims on what specifically the Pope is calling on government to do.
While the Pope and the Church makes certain judgements on what must be done, there is acknowledgement that there is still work to be done as to how to specifically make the world a better place.
Father Thomas Reese of the national Catholic Reporter has said, "He's going to comfort the afflicted and afflict the comfortable." Even more so than material idea of comfort, the Pope's words will afflict those who have become intellectually comfortable, challenging them to think deeper about many of life's most important questions.
While we will continue to debate what are ideal policies to make this country a better place, I think it is undoubtedly a good thing that Pope Francis has brought attention to the plight of the poor and oppressed. Regardless of your political persuasion, increasing the wellbeing of the worst off in society is an important and admirable goal.
Every law, policy and interaction is an opportunity to either make the world better or worse place. With all the action and argument going on throughout the country, the Pope has brought focus to a simple yet crucial rule — love thy neighbor.
Sean Cleary is the news editor for The Dakota Student. He can be reached at [email protected]