UND professor's bicycling program in full swing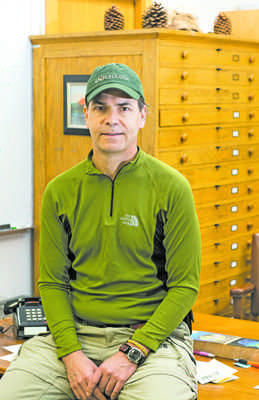 Cycling around Grand Forks and East Grand Forks are teams of riders in a friendly competition that goes until the end of September.
The riders who formed their teams in August log their mileage commuting around town each day.
The founder of the month-long event, EarthCycle, is Jaakko Putkonen — a geomorphology professor and director of the Harold Hamm School of Geology and Geological Engineering. The inspiration for EarthCycle comes from the University of Washington in Seattle, where Putkonen got his Ph.D.
Putkonen, who used to work in the bicycle-friendly city of Seattle, thought Grand Forks had the tools to create a vibrant cycling culture.
"We're trying to encourage environmentally friendly and healthy behavior by riding a bike instead of driving to work for a month," Putkonen said.
While referring to the ease of bicycle transportation, Putkonen said, "Grand Forks is a great town to bike around in because there are no hills."
There's two major teams competing in the EarthCycle event: Altru and UND.
However, there is no size limit to the number of teams, or the size of each team. Putkonen stressed that even though the event is a competition, riding solely to win would be missing the point. He encourages riders to continue riding into the winter if they are especially hardy. Putkonen's end goal is to establish a culture of bicycling similar to Seattle.
When asked about why people should consider switching to riding bicycles Putkonen said, "People ride for the environment, the planet, a healthy lifestyle, ease of congestion and saving money."
UND has consistently been ranked as one of the most green campuses in the nation. As other universities push green initiatives, UND will have to take progressive actions to stay atop the list.
University Avenue's bicycle lane supports many bicyclers. The Greenway is a great outlet for riders as well, with miles of trails to explore on either side of the Red River.
Biking around Grand Forks is also beneficial for drivers. Parking and traffic would immediately improve if more people rode their bikes.
To sign up, visit greenlightride.com. Sign up individually or join a team and create a unique bicycling challenge. The website allows riders to easily keep track of their mileage.
Nick Sallen is the opinion editor for The Dakota Student. He can be reached at [email protected]