Women clinch top seed
Basketball team will host conference tournament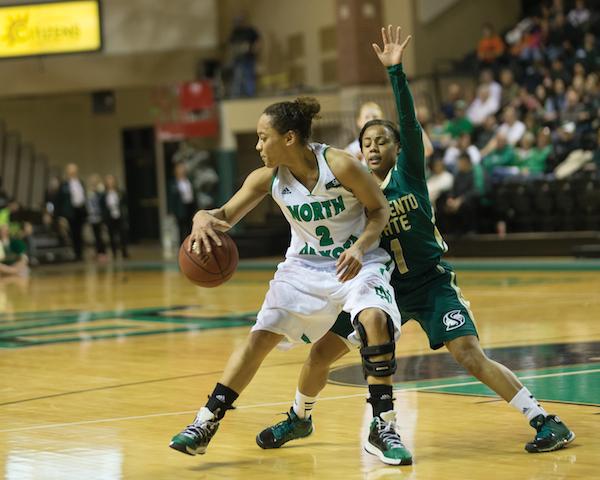 Sophomore Mia Lloyd dribbles the ball against Sacramento State earlier this season. File photo.
Despite a 73-53 loss to Southern Utah on Thursday, UND will host the Big Sky Conference Tournament this weekend at the Betty Engelstad Sioux Center as the No. 1 seed.
Sacramento State also lost Thursday which secured North Dakota as the tournament host.
As for UND's 20-point loss, the Green and White are learning from it and giving credit where it's due.
"I think today was a good wake up call for us," UND coach Travis Brewster said. "We've got to go back to basics, it's how we approach the game mentally. SUU did a heck of a job tonight."
The Thunderbirds won their fifth game in a row to tie their record with North Dakota at 15-5 for Big Sky play, but Southern Utah still goes into the tournament as the No. 2 seed, having lost the tiebreaker between the two teams with its split to No. 4 Eastern Washington. UND swept the Eagles this season, putting the Green and White atop the conference.
Tournament time
Games will begin Thursday afternoon with the three lowest-ranked teams facing the highest. A total of seven teams enter the tournament, No. 1 ranked North Dakota buying its way into the second round of games Friday where it will face the lowest remaining seed at 5 p.m. The second semi-final game will be at 7:30 p.m. on Friday. Winners of both semifinal games will enter the championship game at 3 p.m. Saturday.
"They're just playing good basketball together," Brewster said. "It's a selfless team; no one is really getting caught up in who scores the most points or anything like that. It's more about 'hey, let's take care of business.'"
The team's hard work this season has proven worthwhile, and Grand Forks fans now have the chance to see UND play at least once more at the Betty Engelstad Sioux Center.
"To be able to play in front of our fans and our community would be awesome," Brewster said last week. "I think you just look at our team and how things are, it's a special opportunity for everybody."
Tickets
Student tickets will go for $5 this week on a first-come-first-serve basis. There will be all-session tickets available and $10 single-game ticket.
The overlap of the NCHC Quarterfinal playoffs and the Big Sky Tournament means parking will be different than usual Friday. Fans with men's hockey hang-tags should park on-site at REA in the normal hockey parking location. Those with a basketball hang-tag, but not a men's hockey hang-tag, can park in the UND Wellness Center lot (Friday only).
Marie Monson is the multimedia editor for The Dakota Student. She can be reached at [email protected].