One last skate for Berg
— Women's hockey team prepares for bittersweet parting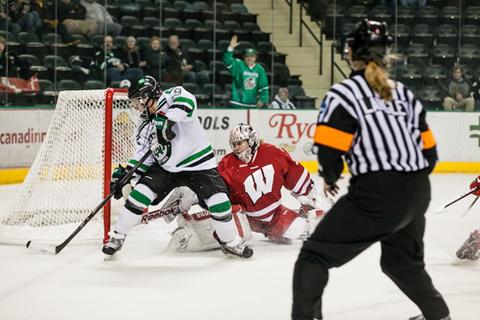 Kayla Berg skates near the goal. File Photo.
After five years, Kayla Berg is preparing to play in her final regular season game at Ralph Engelstad Arena.
Berg has a unique perspective on the team, as she has watched players come and go and been through a variety of situations.
"I think we've seen a lot of girls take on bigger roles both at forward and defense," Berg said. "Obviously, we lost some great players, so we need the people to pick up their roles. I think the younger girls have done a great job of kind of picking that slack up."
At the moment, Berg is the only senior with the team — until Michelle Karvinen returns from the Olympics.
When some players head to the Olympics, others get chances to step up while keeping tabs on their Olympian teammates on a bigger scale.
It also allows the players to bond and keep the team close — despite some members being overseas in another country.
"It's awesome," Berg said. "I know lots of us have been getting up early in the morning and watching their games. We're keeping tabs and trying to talk to them. With the 10-hour time difference, it is kinda hard. But when we wake up, we can talk to them at night and when we're going to bed, we can talk to them when they are waking up. But it's unreal to see them playing over there."
Along with the excitement of seeing her teammates play overseas, Berg realizes she will be playing in her last home series of her career this weekend.
"It's been a phenomenal run," she said. "I played for four years and I redshirted my first year, but it's obviously going to be really emotional, and it's too bad Michelle Karvinen, my fellow senior, couldn't be here with me — but she's off doing greater things.
"It's going to be emotional and it's going to be hard. But it's been an amazing run and a great opportunity to be able to play here the last five years."
Despite it being Berg's last home series, she won't be able to let that cloud her focus on the task at hand.
"I think the key is just control your emotions during the game and then after the game, you can be a little more emotional — kind of feel those emotions and kind of soak it all up," Berg said. "But you have to control your emotions for that 60 minutes to play a full hockey game first."
The UND women's hockey team takes on Minnesota State-Mankato this weekend at the Ralph Engelstad Arena at 2:07 p.m. both Saturday and Sunday afternoon.
Mankato has been a tough opponent for UND in the past, and it has been a rough rivalry with a lot of physicality.
This will be a test for UND without some of its top players at the Olympics, and one player playing her last ever series at home for UND.
Berg hadn't given it a lot of thought, yet, but she did have some advice for her younger teammates in the final weeks.
"I guess I haven't really thought about it, but definitely just not only do it for me, but just do it for everybody," she said. "We need these wins and I would love a win on my senior night, obviously."
Mariah Holland is a staff writer for The Dakota Student. She can be reached at [email protected].