Softball team drops three
Northern Colorado defeats UND in Grand Forks series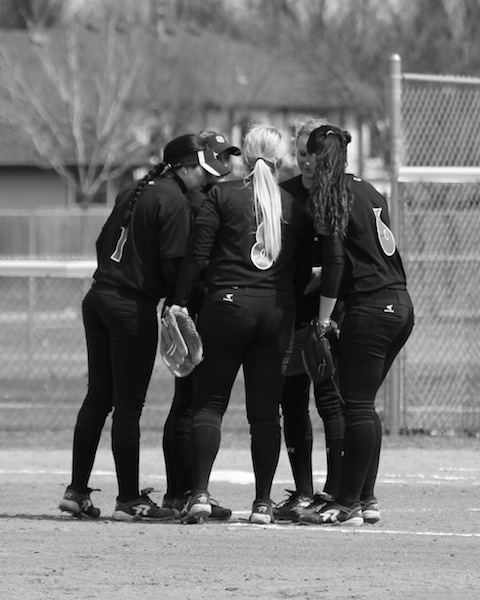 Members of the UND softball team huddle during last weekend's series against Northern Colorado. Photo by Jennifer Friese/The Dakota Student.
The UND softball team faced conference opponent Northern Colorado in the team's first home series of the year over the weekend — the weather holding out to allow the games to be played on the long-awaited field in Grand Forks.
Northern Colorado was able to get the best of North Dakota in all three games over the weekend. UND lost the doubleheader Friday by scores of 10-6 and 10-2, then lost the single game on Saturday, 21-7.
"You know there's gotta be a better sense of urgency, and we just need to get the timely hits," UND coach Eric Oakley said. "We didn't get the timely hits, and that was the difference today."
Urgency and timeliness of hits aren't the only weaknesses UND has been struggling with throughout the season. Another significant weakness has been pitching.
"We need to make better pitches in situations when we're ahead," Oakley said. "Too often, we had two strikes but still gave up the hit, and so (Northern Colorado) had good opportunities, and they took advantage of them. We had good opportunities, and we didn't put the ball in play the way we needed to."
UND has been able to get hits on the board, but the opposing team has always been able to bounce back and either take or keep the lead. Despite the hard 21-7 loss Saturday, UND was able to have a lead for part of an inning after an error on Northern Colorado's part, which allowed UND to score three runs and claim the 4-3 lead.
But Northern Colorado was able to overcome the error and scored 11 unanswered runs to seal the lead and the game.
UND did have two players hit solo home runs during the game by D Jantzer and Taylor Hansen, and also put in two freshmen pitchers during the game — Kaylin VanDomelen and Megan Hedstrom.
Sophomore Taylor Hansen also pitched in the top of the seventh to end the inning.
Despite the weaknesses, there were good things that happened over the course of the games, including several home runs and also several pitchers getting the chance to take the mound at home.
The team also was able to get the feeling of being back at home after being on the road. Due to numerous cancelled games over the course of this season, it had been weeks since UND was on home gravel.
While this past weekend didn't look to be favorable for North Dakota, it will be at home once again on Tuesday to take on South Dakota. The double header games will be played at 3 p.m. and 5 p.m. at the Apollo Sports Complex in Grand Forks.
Mariah Holland is a staff writer for The Dakota Student. She can be reached at [email protected].