UND lost 49-35 against No. 1 SDSU
The fierce battle between the Fighting Hawks and Jackrabbits last Saturday had fans on the edge of their seats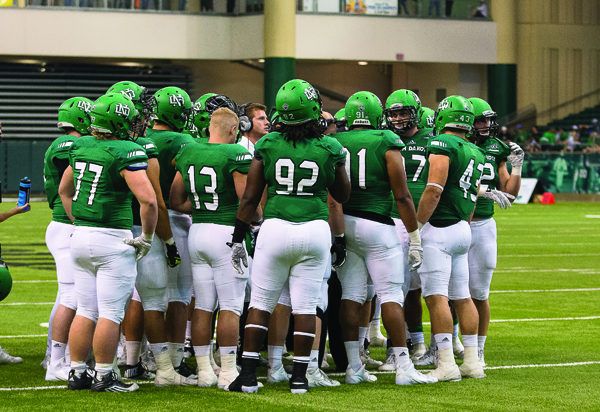 The University of North Dakota, the Fighting Hawks, went down with a close defeat last Saturday, October 22nd vs South Dakota State University, the Jackrabbits. SDSU won the toss and decided to let UND receive leaving SDSU to defend the South end-zone. UND's Junior Wide Receiver Bo Belquist received a 10-yard pass from Junior Quarterback Tommy Schuster for a touchdown. Senior Kicker Brady Stevens successfully kicks a field goal leaving the score 7-0 at 12:20. Another touchdown for UND after Junior Quarterback Quincy Vaughn's run to victory. Stevens kicks putting UND ahead 14-0. Before the first quarter comes to an end, SDSU squeezes in a touchdown when Senior Cornerback DyShawn Gales intercepts the ball at 69-yards. Junior Kicker Hunter Dustman of SDSU kicks a field goal, and the score at the end of the first quarter is left at 14-7.  
The second quarter is a fight. Both teams are eager to give their fans a win. Finally, UND scores when Graduate Running Back Tyler Hoosman runs a touchdown and Stevens kicks the field goal giving the Hawks hope for a victory. With the score 21-7, SDSU was itching to make a successful play, and near the end of the second quarter, Junior Tight End Tucker Kraft received a 32-yard pass from Sophomore Quarterback Mark Gronowski for a touchdown. Dustman kicks the field goal for SDSU putting the score 21-14 with UND ahead at the end of the first half.  
 The third quarter was hard for the Fighting Hawks. SDSU scored three touchdowns within the quarter. Senior Wide Receiver Jaxon Janke received a 10-yard pass from Gronowski and ran the ball into the endzone right off the bat. Senior Tight End Zach Heins continued to ride that high that the Jackrabbits were feeling when he received a 2-yard pass from Gronowski scoring a touchdown. Shortly after, Gronowski ran the ball for a touchdown. With all three touchdowns, Dustman kicked successful field goals putting the score at a disappointing 35-21, which left UND fans feeling a bit hopeless.  
The fourth quarter came down to one thing, UND needing an epic comeback, but the battle continued. SDSU had the first touchdown of the quarter when Gronowski ran the ball into the endzone for a touchdown and Dustman kicked the field goal. Not long after, Schuster scored for UND running the ball 9-yards into the endzone. Stevens kicked the field goal, and fans were getting rowdy. The score was 42-28, and UND still had a lot of ground to make up. SDSU retaliated quickly with a touchdown by Sophomore Running Back Amar Johnson. With only about a minute left on the clock, UND knew they were going down, but they went down with a bang. Senior Linebacker Marcus Vaughn-Jones scored on an 11-yard punt return and Stevens kicked the field goal. The final score was 49-35, SDSU won.  
Kelsie Hildebrand is the Dakota Student Editor-in-Chief. She can be reached at [email protected]