Hank Aaron, One of Baseball's Greatest
Remembering Baseballs True Homerun King
On Friday, January 28, the baseball community mourned the loss of one of the greatest to ever set foot on the diamond. "Hammerin' Hank" Aaron passed away at the age of 86 in his sleep and left behind a legacy of greatness very few players could dream of achieving.   
During his 23-year career-long stint with the Braves, which would span their relocation from Milwaukee to Atlanta, the hall–of–famer filled the record book with his name. Most career RBIs (2,297), extra-base hits (1,477), total bases (6,856), and All-Star games (23). In career hits, he follows only the great Pete Rose and Ty Cobb with 3,771. If you look near the top of any hitting category, you will find Aaron, but no number defines his career like 755.   
755 home runs. A total count that has been eclipsed only by Barry Bonds, tainted by his use of performance-enhancing drugs. This number can only be reached with an incredible combination of consistency, power, longevity, and skill.  
Hitting a massive amount of home runs in a season is a feat in itself but trying to do that constantly over the course of a 23-year career is where it gets difficult. To put a 23-year career in perspective we can take a look at the 19,902 players who have played in major leagues. Only 35 of them have played 23 or more seasons. This boils down to a less than 0.2 percent chance of making it that far into a career, to even give yourself a chance at the home run record. Next, we look at the number of players that have hit 40 or more home runs you can find 123. Meaning only 0.60 percent of players in the history of the game have hit 40 home runs in a year. Hank Aaron hit 40 home runs eight times. 
To play in over 23 seasons and hit more than 40 home runs would have to be a statistical anomaly. Hank Aaron was that statistical anomaly. If you take away his home runs from his hit total, he still would have had 3,016 hits. By comparison, if you take away Bonds' home runs, he would have 2,173 hits. If you take away Ruth's home runs, he would have 2,159 hits. 
When we think of the home run slugger, we think of the larger than life characters, both in size and character. You think of Babe Ruth swinging 3 bats to warm up while smoking a cigar. Barry Bonds with his massive, juiced biceps and a dangling diamond earring. When compared to his fellow home run kings, Hank Aaron simply doesn't fit the bill.  
Standing at six feet and weighing in at 180 pounds, Aaron was not physically gifted like the others. Bonds and Ruth both pushed 240 pounds and stood a few inches taller than Aaron. And their grandiose personas elevated them both to almost mythical proportions. Larger than life itself. Aaron was very much different in the public eye and lived a rather unassuming life. His humble and harsh beginnings growing up in Jim Crow era Alabama always kept him grounded.  
When Aaron's pursuit of the most famous record in the history of sports slowly came to fruition, it's hard to imagine the hatred he must have felt. A black man dethroning the deified Babe Ruth who was praised years after his career was over. Many Americans did not want to see their holy figure passed by and it brought out the worst in many.  
"It really made me see for the first time a clear picture of what this country is about," Aaron told New York Times sportswriter William C. Rhoden in 1994 on the 20th anniversary of his record-breaking homer. "My kids had to live like they were in prison because of kidnap threats, and I had to live like a pig in a slaughter camp. I had to duck. I had to go out the back door of the ballpark. I had to have a police escort with me all the time. I was getting threatening letters every single day. All of these things have put a bad taste in my mouth, and it won't go away. They carved a piece of my heart away."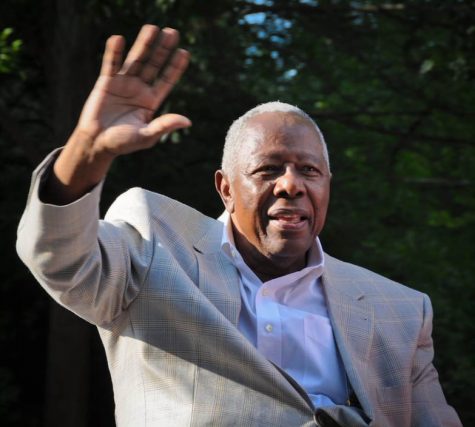 But no one could stop "The Hammer". As he stepped into the box on April 8th, 1974 there would be no one that could stop him from writing history. The Dodgers' Al Downing left a fastball up in the zone and it was all Aaron needed to hit one of the most iconic home runs in the history of baseball. The words of the greatest announcer of all time, Vin Scully, rang through every television set in America that night. 
"What a marvelous moment for baseball. What a marvelous moment for Atlanta and the state of Georgia. What a marvelous moment for the country and the world," Scully called. "A Black man is getting a standing ovation in the Deep South for breaking a record of an all-time baseball idol." 
Although his historical performances will remain in our thoughts for all time, Aaron will be remembered for being much more than a baseball player. He was never resistant to speak out about what he believed in, whether it was being farthing and fighting for civil rights in America, or about banning the Houston Astros after the cheating scandal. The hall–of–famer never stopped fighting for what he believed in even into his old age. The day of his passing came just 2 and half weeks after taking the Covid-19 vaccine, in an effort to spread the word to the black community that it was safe. "I feel wonderful," Aaron said. "It makes you feel like you are doing something not only to help yourself but to help your community."  
The loss of an icon will always be saddening, but let it serve as a constant reminder: savor every moment, while we still can. 
 
James DeArman is a Dakota Student Sports Writer. He can be reached at [email protected]