Paint Party
Creatively Uncorked holds paint event in East Grand Forks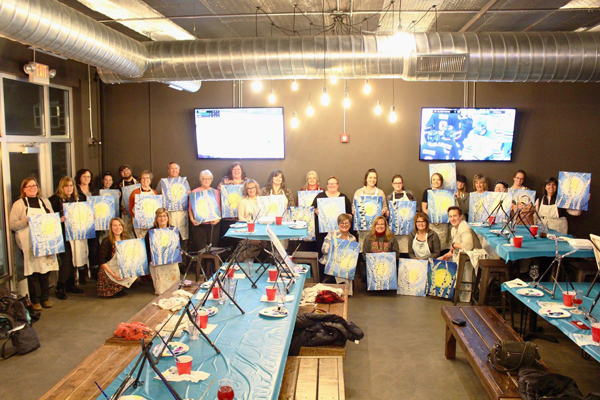 Creativity was introduced to a blank canvas during a guided paint night in East Grand Forks, MN.
Up North Pizza, which is past the bridge in Downtown, holds these events held by Creatively Uncorked which usually take place about once a month. Creatively Uncorked is a company based in Fargo that ranges in a bunch of different crafting activities. They have paint nights, knitting nights and much more.
These events are usually located at restaurants so there is an option to grab some food beforehand and drinks are also offered throughout the night.
Blank canvases are lined up on long tables. Each seat has a direct view of what the finished product should look like or at least the main idea.
There is an artist in the front that helps guide everyone step by step to help get the best possible finished result.
Each step is broken down into small increments that are easy to follow along with. The size of the event is relatively small which means that it is easy to hear and follow along with. There is also time for the artist to come around and help if it is needed.
The canvas, paint, brushes and an apron are provided to everyone and the canvas is yours to take home once you are finished painting.
The environment is positive and fun. At the beginning of the session, they reminded everyone that the event was all about having fun and not to worry about the finished product. There was plenty of laughter and good vibes going around throughout the night.
The event lasts about two hours, but they make sure if you need more time that you will have enough to finish your masterpiece.
This event was relaxing and fun. It is also a great way to mix things up from your daily routine. If you like being creative and want to paint, consider going to one of Creatively Uncorked events that are held in Grand Forks.
You can either go alone or bring a group of your friends. Either way, you are sure to have a good time while you are there.  
The downfall is that these events usually fill up pretty quickly and they can be a little expensive on a college budget. The cost of this particular event was 45 dollars and the tickets could be purchased online, but they do sell out fast.
To make sure you can get a spot in the next event, you can "like" Creatively Uncorked on Facebook to keep up with their updates about event that will be in the Grand Forks area.