The Problem with Dining Centers
The problem with Squires being closed on weekends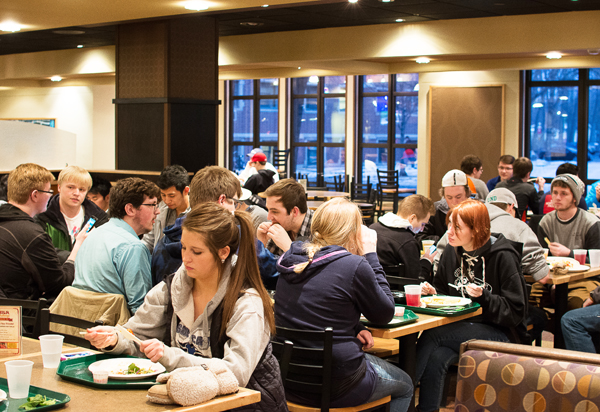 Se Kwon, Opinion Writer
February 26, 2019
As freshmen, we are offered two different types of meal plans for each semester. Both meal plans are 'unlimited' or also known as 'anytime' meal plans. The first meal plan that is offered is called 'Anytime Access Upgrade' which consists of $150 in dining dollars and 12 bonus meals for a total of $2,523 per semester. The other meal plan that is offered to freshmen is called 'Anytime Access' consisting of $50 in dining dollars and three bonus meals for a total of $2,402 per semester.
At UND, we have two different dining centers that students are familiar with– Squires Dining Center and Wilkerson Dining Center. Of course at the Memorial Union, you are allowed to use dining dollars to purchase meals/snacks/beverages as well.
Squires Dining Center seems to be the most common dining center for students who reside in dorms such as Squires, Walsh, Bek and dorms that are across University Ave. At Wilkerson, it's pretty common for residents of the dorms on the other side of campus.
I am a resident of Squires Hall, which is so convenient since the dining center is in the same building as me, more specifically just downstairs from my room. Squires Dining Center is also very convenient for residents of dorms in close proximity since there are underground tunnels to take them to Squires but on the weekends, it can be a big inconvenience to students.
Squires Dining Center is closed on weekends, which makes it difficult for students who reside close to Squires Hall. The only option we really have as students is to commute to Wilkerson, commute to a restaurant nearby and purchase food, or use dining dollars at the Memorial Union to purchase food. I've heard many students complain about the walk to Wilkerson and to be honest, I am definitely guilty of this. For us students, it's not ideal for us to walk in negative degree weather conditions to eat so we are usually spending more money either Ubering to the dining center on the weekends or perhaps even using UberEats to get food delivered to the dorm.
I know what you're thinking- I'm just a lazy student who doesn't want to walk three to five minutes in the cold. I get it, I would probably think the same thing. But I know of more students who munch on snacks that they have in their dorms instead of actually walking to the dining center to eat food. This is honestly just a typical college student thing. We go to school in Grand Forks, ND, which happens to be one of the coldest cities in the U.S. and we choose to avoid walking outside at all costs. I am aware that there are 'dining center shuttles' that drive students every 15 minutes from Wilkerson Dining Center to the residence halls, but if the university really thinks it's necessary to provide shuttles for students, maybe it's time we open up Squires Dining Center on the weekends so that we don't need the shuttles because the fact that the shuttles are provided for students who don't want to walk in the cold seems to be the first problem here.