A family legacy dipped in chocolate
Valentine's chocolate the Widman's way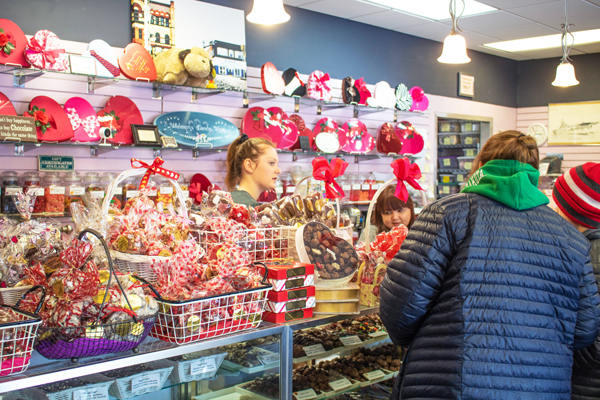 Valentine's day or chocolate giving season, whichever you prefer. It's the time of year when couples come together in harmony and give each other heart-shaped everything. Heart-shaped pizza, heart-shaped balloons, heart-shaped pillows, heart-shaped cake and more importantly heart-shaped boxes of chocolates.
Here in town, one place springs to mind when it comes to chocolates, Widman's Candy Shop. Widman's has been around for since 1911 and is home of the famous Chipper, also known as a potato chip dipped in chocolate. More recently, one of Widman's creations is a crunchy peanut butter type chocolate called, Giana's Peanut Butter Whirl.
"It's almost like a Butterfinger," Daniel Widman said.
Daniel Widman is the descendant of William Widman who started the first Widman's Candy Shop down in Dubuque, Iowa back in 1885. Since then, the Widman's we know today has blossomed through Crookston, Minn. as well as Fargo and Grand Forks, N.D.
Daniel is currently the owner and operator of the Widman's in Grand Forks.
"I worked here off and on as a kid," Daniel said, "We've been in town here since forty-five, dad retired in 2012, I think when I was 15, he had the flu and had a big order of peanut brittle to make, I never made peanut brittle before. He couldn't stir anything, so I made like five batches that day. He was just sitting there, watching me. Telling me what to do. That was my first real initiation into it."
Since then Daniel has worked full time at the store for 35 years.
Widman's offers an abundant amount of delicious chocolates and treats for any couple this Valentine's Day. But even with all the guys buying chocolates for their lovely ladies, the store is not as busy as many may think.
"This Isn't too bad, Christmas is a stressful time of year," Daniel said.
Widman's has been a part of the community in Grand Forks for over 70 years and will continue to grow and flourish in town. There can be numerous positive benefits of owning and operating a chocolate store. Unlimited chocolate, candies and smells could convince anyone to stay in the business. The best part for Daniel, however, is "The people I meet, the people I work with."
Valentine's Day is a day of cherishing your partner or yourself. It's a day of being spoiled and spoiling. A day to stuff your face with chocolates and candies. It's a day to remember and relish in the good memories shared and the past we've created for ourselves and for others. So this Valentine's Day think about what you want to give that special someone and if you have yet try out Widman's Candy Shop, think about stopping by.