Welcome to the family!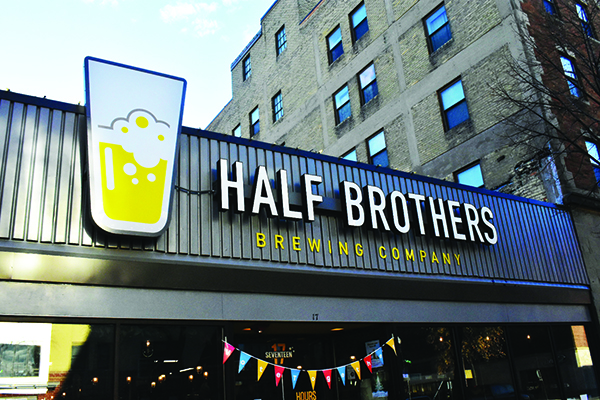 Do you love beer and a relaxed yet welcoming atmosphere? Well, Half Brother's Brewery may be the perfect place for you?
Half Brothers originally started with Chad and his half-brother Taylor. Chad was working at the Rhombus Guys Brewery as the head Brewer but he had worked at others before Rhombus Guys. After a while, he decided he wanted one of his own. His half-brother wanted to help him with his dream and they decided that they were going to open up their own brewery. Shortly after, Half Brother's was created.
Half Brother's is located on North Third Street in Downtown Grand Forks. The building used to be Dakota Harvest before they bought it. Besides the electrical and plumbing, all the renovations were done by three men and some friends every once in a while. They started construction in April 2017 and finished in the beginning of September of the same year.
Half Brother's Brewery just celebrated their one year anniversary last month on Oct. 6.
"We want to provide beer for the Midwest," Anthony Zunker said.
Zunker is the kitchen manager and one of the men behind the construction of the brewery.
There are some rumors of expansion of the brewery. They are interested in opening one or two more in different states but they don't want to get too big.
Half Brother's prides themselves on family oriented and community friendly.
Their tagline is "Welcome to the family."
It is open to all ages which is unique for any brewery in the area.
Every Tuesday they have an event called "Funds on Tap" and an organization sponsors that night. From 6-9 p.m. every dollar sold goes toward that organization.
"We try to do as many community things as possible," Zunker said.
They host many community events and there is no charge for events like these.
"Being family friendly and dog friendly too, we get different type of clientele than you would usually find in a brewery," Zunker said. "We try to push families to come here because we want to be that kind of place but it is still a work in progress. And people are still trying to get used to that."
They typically have live music every night but for the past month it has only been on the weekends. They hope by the end of month, live music will be back every night.
When asked what beer Zunker would recommend, he said the Peanut Butter Porter.
Half Brother's Brewery has a great atmosphere. The employees are all a family within themselves and are all knowledgeable about the brewery and food they serve and are more than happy to answer any questions anyone may have.
Besides having many different beers on tap, they also serve food.
Half Brother's has different games that anyone can use while they are there.
They are open Monday- Wednesday 4 p.m. – 10 p.m., Thursday- Saturday 11 a.m. – midnight and on Sundays from 11 a.m. -10 p.m.
Feel free to bring friends, family or your dog and grab a beer and a snack.