Rocky Horror Picture Show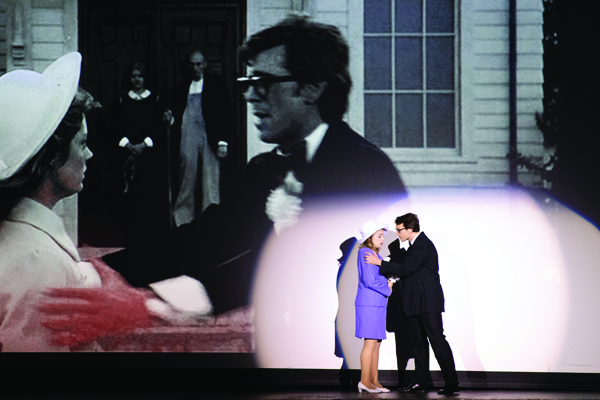 Noah Sell, Arts & Community Writer
October 30, 2018
Take what you know about seeing a movie, add what you know about seeing a live show, mash them together and forget everything you know about both of them and you are left with the start of a general idea of what "The Rocky Horror Picture Show" is.
I attended my first live performance of the show this last Friday night at the Empire Theater and nothing could have prepared me for the experience that was waiting behind, or in front, of the curtain.
The audience was the most lively and interactive one that I had ever seen with devotees and newcomers alike losing themselves in the performance and music and freely speaking their minds about events and characters throughout the show. Not to mention that the interaction was only further encouraged by the sale of prop bags full of things for the audience to use at different points of the show.
As for the performance, the cast was fantastic and so much fun. I would have believed that they were a part of some big name travelling group if Kelly Clow hadn't informed me otherwise. Clow, a Grand Forks native as well as the Executive Director of Nine and Numb Entertainment, puts on the live show each year.
"It's been 16 years that we've been doing this and it started kind of almost by accident, quite frankly.  We were doing a haunted house in this very building when I still lived in Grand Forks and the fire marshall came by and shut us down and shut everybody down on the same night," Clow said. "So we were just sitting there thinking 'Okay, we have to rebuild this thing to fire code and whatever' and at the time the Executive Director of this building said 'Well you have the whole building for the night, if you wanna show a movie or something.' I thought 'Okay, maybe we can do "The Shining" or something.' And then I remembered that we used to do "The Rocky Horror Picture Show," we would get up and do it in front of the television set at after parties for Nine and Numb when our improv comedy troupe was here in town. We thought 'Okay, we'll just throw that on as an extra, no big deal.' Next thing you know we had a line around the block and decided 'Oh, forget the haunted house, we're doing this now.'"
I can't be blamed for assuming the professional background of the cast as Clow also commented on their work ethic and quality of performing.
"These guys work so hard," Clow said. "I use only local actors from Grand Forks and the area. Sometimes I've gotten some people from Fargo, but I use local actors because they are honestly some of the best in the country and they're so unrecognized for that fact. They're fantastic out here and that's why I do it. They work really, really hard."
Although Clow no longer lives in the area, Grand Forks still holds great value to him.
"I want to thank the people of Grand Forks," Clow said. "I really do. I want to thank them for still coming to this thing after 16 years and making it all worthwhile. Because you heard that crowd tonight, that's nuts! I've never heard that on a Friday night before. This was a fantastic crowd, so I would just like to say thank you to the students at UND and to the people of Grand Forks for continuing to give us a reason to be here."
This year's final performance of "The Rocky Horror Picture Show" will be on Wednesday, Oct. 31 starting at 11:59 p.m., and tickets are available at the door for those 18 years of age and older.