Fighting Hawks Football Continue to Prove Themselves
UND dominates Sacramento State and builds momentum for the end of the season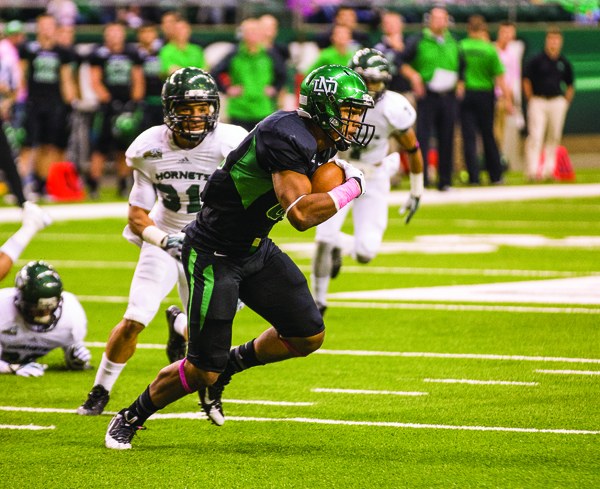 The Fighting Hawks Football team went into Sacramento as hungry as can be for a win, and that is exactly what they got. The Hawks dominated all facets of the game for a 41-15 victory over Sacramento State putting UND at 5-2 on the season.
Many UND fans felt slighted in the rankings leading up to the Sacramento game after being left out of the top 25 despite a convincing win over Montana and overall impressive season thus far. Worry no more Hawks fans, this win will surely put the squad over the edge as they begin to plant themselves in position for a playoff berth.
The running game was key in the big win over Sacramento State. Emerging tailback James Johannesson rushed for a whopping 213 yards and two touchdowns on just 11 carries. Much of that success is attributed to his impressive 90-yard touchdown run in the fourth quarter. That is only half of the story for this dominant Hawks run game. Brady Oliveira tied a career high in rushing yards, contributing 171-yards and three touchdowns.
All in all, the Hawks rushed for a very impressive 480 yards. If they can continue that success, the future is bright for this team that is looking to win out their final four games.
"Our backs, when they get in the secondary, are hard to bring down," head coach Bubba Schweigert said. "Our guys up front did a nice job springing those guys. It was tough sledding early, but we wore on them."
The story of this game can't be told correctly without mentioning this Hawks defense that has also been on a tear. The defense held a reputable offense to just 15 points and was led by linebacker Jaxon Turner, who recorded ten tackles and two sacks.
Looking ahead, the Fighting Hawks will travel back home this weekend to take on rival Weber State, who is in position to make a run for the Big Sky championship.
"If you're a competitor, you want to play the best," Oliveira said. "Right now, they're ranked high and it's going to be one heck of a game."
The last time UND faced Weber State was in the 2017 season where UND came out on top with a 27-19 win at home.
"We have to play better football than we did tonight," Schweigert said. "We overcame a lot of self-inflicted wounds. We'll take it, enjoy the win but we had a lot of miscues."
Buckle up folks, the 2018 season is just starting to heat up. See you Saturday.