Legends of Terror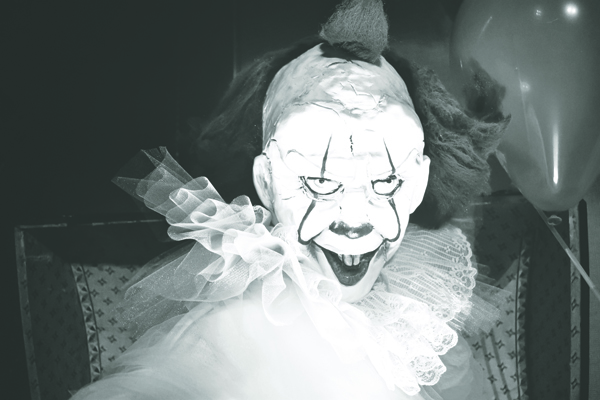 The 10th Annual Legends of Terror was held this past weekend at the Grand Forks County Historical Society and featured two back-to-back nights of fright. When prospective thrillseekers arrived on the scene and made their way into the first building, they heard screams coming from every direction as the event consisted of a handful of different haunted houses for people to walk through, each with a different theme.
The Director of the Historical Society, Leah Byzewski, on Friday night explained about the different themes the society has done in the past and how they have put things together.  
"The Campbell House was all my idea and I'm really proud of it," Byzewski said. "Now I'm not going to tell you what the theme is, but the story that it's based on is in its 200th year, so it's a classic that's been around. So thinking Halloween classics, you've got different things you'd kind of expect in October. One year we did an Edgar Allen Poe theme, so every building had something. We did the 'Tell Tale Heart,' we did 'Cask of Amontillado,' which I wasn't familiar with, but all of the kids knew the story."
Originally, the idea of putting on a Halloween-themed event was centered around Byzewski's desire to have a safe place for kids to go trick-or-treating the way she did when she was a kid.
"I thought, 'You know we've got actual buildings,' so you know kids can't trick-or-treat like they did in the '70s, in the stone age, when I was a kid," Byzewski said. "We could just go, moms didn't worry about us, you know the whole pack, with our pillowcases just filling them up in the neighborhood. It's just not safe, parents are concerned, so we thought this way, building-to-building, it's still kind of reflecting that original trick-or-treat."
She also enlisted in some help from the University, which played a big part in shaping the idea into what Legends of Terror is today.
"Our first year on our board we had Ben Klipfel, who was the head of the UND Theater Department," Byzewski said. "It was early September and I sent him an email along with Julie Rygg who ran the visitor center, that I would like to do a Halloween themed event at the museum. But Ben comes back with 'Yeah! And we can do a haunted house!'"
Initially, Byzewski was tentative about the idea, unsure about what Klipfel had in mind, but it eventually seemed to work out great for both parties.
"I'm thinking 'Okay, what do you have in mind,'" Byzewski said. " So his theater friends had been dying to do a haunted house but they couldn't find the right place. Here we've got all of these buildings so we could have a pathway, and so that first year we did the Half-Pint Haunt from 5-7 so kids could trick-or-treat, then we shut down for an hour and from 8-midnight everything was horrifyingly scary, and it really was."
Since this event is in its tenth year, Byzewski and the rest of the organizers have had plenty of learning experiences with how to make everything more efficient and fun for families that come through. One example of this is how the Half-Pint Haunt and Legends of Terror are put on separately, with the trick-or-treating now not being held until the Sunday before Halloween. However, this experience does always protect from things going awry.
"This year I had this technical problem, one of our projections we couldn't get the projector to accept its password to come on," Byzewski said. "We finally got that to go, then the DVD we burned to do the spooky effect wouldn't play so I had to go and find the laptop."
Even as we were speaking, Byzewski calmly helped solve a mishap with a torn dress.
"It's evolved, it's always a stressful thing now getting everything done and ready to start on Friday, it's always tough," Byzewski said. "Now tomorrow, the Saturday show, we've worked through everything, worked out a lot of the bugs, everything is set so all we have to do is turn it on. But for us, putting on the show Saturday is less stressful because we've got everything in place from Friday."
In the past, the Historical Society has had help from the UND Theater Department, local high schools and even the Air Force ROTC with putting on Legends of Terror, but they will welcome anyone who wishes to help out in any way. To contact the Grand Forks County Historical Society with questions about volunteering, you can call 701-775-2216, send them an email via their website, or message them on their Facebook page.