Boston marathoners:
Making strides for history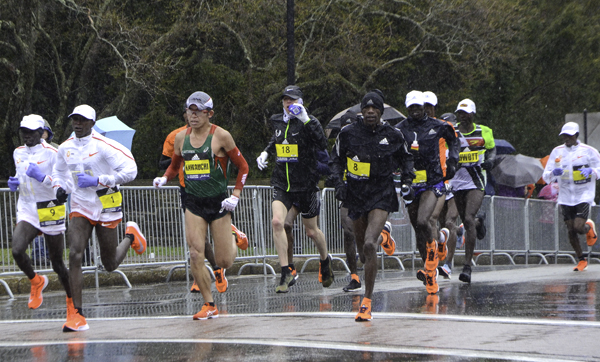 Marathon Monday, the day of the Boston Marathon, is a day that draws attention from runners and general sports fans from across the world. The Boston Marathon is considered to be a showcase of the "best of the best," battling it out across one of the most challenging marathon courses in the country.
This year was no different. Runners on Monday morning woke up to the sounds of rain beating against their windows and whistling wind. To most competitor's dismay, the forecast was undeniably spot-on.
The temperature was 39 degrees with rain and 15 mph wind at the starting line and only got worse throughout the race.
Although the conditions were miserable, it proved to be to the Americans' advantage in the race, having one of the best showings in a very long time.
Des Linden, an American distance runner, won the women's race with a time of 2 hours, 39 minutes, 54 seconds.
"It's supposed to be hard," Linden said to the Associated Press. "It was storybook. It's good to get it done."
Linden became the first American woman to win the Boston Marathon in 33 years. She was well deserving of the honor as she has been working for this day for years.
"Some days it just flows and I feel like I'm born to do this, other days it feels like I'm trudging through hell," Linden said. "Every day I make the choice to show up and see what I've got, and to try and be better."
The competition level of the American women was also incredible. Seven of the top ten women were American.
Sarah Sellers, another American who placed second, was four minutes behind Linden. Sellers ran cross country and track for Weber State in the Big Sky Conference and Boston was only her second marathon. She was competing without elite status and training for the marathon in-between full-time nursing shifts.
The men's race went to Yuki Kawauchi of Japan.
Kawauchi became the first Japanese man to win the Boston Marathon since 1987. He won with a time of 2 hours, 15 minutes, 53 seconds.
Kawauchi was not fazed by the weather.
"For me, it's the best conditions possible," Kawauchi said.
Many people on the course last Monday would not have agreed too readily with Kawauchi. The Boston Marathon Medical Director reported seeing hundreds of cases of hypothermia. 25 of those cases affected elite runners who were forced to drop out.
American runner Galen Rupp, who was a favorite going in, dropped out between miles 18 and 19. He was treated for symptoms of asthma and hypothermia.
In addition to Rupp, some other top contenders were forced to drop out as well. These included two-time Boston winner Lelisa Desisa, Tamirat Tola and Lemi Berhanu of Ethiopia and Wilson Chebet of Kenya.
Organizers of the Boston Marathon said that this year's race was the coldest one they've had in 30 years.
Fighting the conditions, Boston fans still came out and showed their support. The numbers weren't quite as high for attendance as in years past, but the cheering was still there.
2018 Marathon Monday will go down in history as one of the most miserable for many but most celebrated for the Americans.
Madison Overby is a sports writer for Dakota Student. She can be reached at [email protected].