UND Theater department tackles controversial issues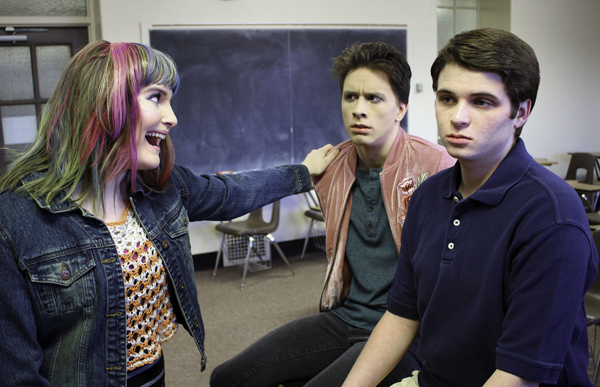 "I was surprised to see this performed in North Dakota," theatergoer Mike Lukes said in response to "Speech and Debate."
"It was courageous and it gives me hope for this future generation."
This past week, UND's black box theater, located in the Burtness Theater, was styled to look like a high school classroom and a cast of four actors put on a coming of age story that was anything but cliche.
"Speech and Debate" was a timely choice in plays. It explores homosexuality, young adult sexuality, teen pregnancy, the fear that comes from living outside of the accepted norms and dealing with repression of who they are.
This production brings a heavy emotional load to the viewer, but one actor found it easy to relate to his character.
"I'm a ball of anxiety and so is Solomon," Karter Dolan said.
However, personally relating to a character doesn't come without a struggle. Dolan struggled with finding a way to respectfully represent and portray a gay character, when he is a straight man.
For Tyler Folkedahl, his role was easy to step into.
"It really wasn't hard. Our director, Emily, was great," Folkedahl said. "Howie is pretty savage. One of my New Year's resolutions this year is to be gayer than ever and Howie has really facilitated that."
"Speech and Debate" is different from many UND productions when comparing the size of the cast. With three main actors and one supporting actor, there's a different vibe on stage.
All three actors agreed that the group had become very close, working on an intense show with a lot of sensitive subject matter. They really got to know each other in a different way and it came across to the audience.
It's hard to build intimate relationships when working with a large cast. Gina Uhlir also prefers acting with those more intimate connections in place. It was easy to see, both on stage and off, that these three actors had bonded firmly. There was an electric connection between them on stage. Off stage, it was like watching a group of siblings interact.
Scenic and lighting designer Brad Reissig also weighed in on his preference for working with the black box theater environment. He also appreciates the versatility of the stage and the creativity it allows for him.
The small cast and the small size of the theater really force the audience to engage with the content of the play. It's impossible to tune out. The actors have spent time considering what they want the takeaway from all of this work to be.
UND Theatre's next performance is April 17-21. They will be playing "Mr. Burns." It will be in the same intimate black box theater setting as "Speech and Debate." For more information, visit the UND Theatre website.
Maddie Ardelean is an a&c writer for the Dakota Student. She can be reached at [email protected].