ND valve turner sentenced
Pipeline activist faces jail time for "mischief"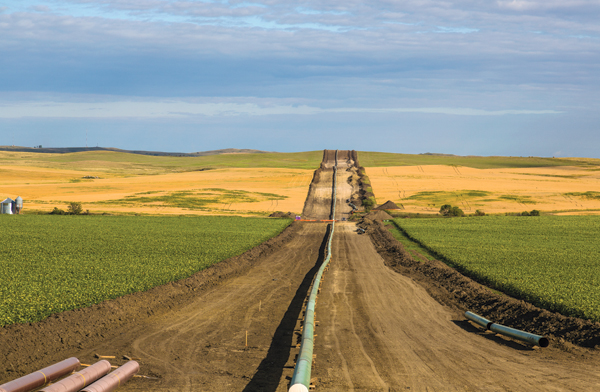 Michael Eric Foster, who is vegan, said one of his biggest concerns in prison is a dietary one.
He said he doesn't plan on going on a hunger strike or starving while serving, but said he's considering initiating a movement in the prison to improve dietary conditions for his prison mates with more locally-sourced and healthier foods.
"Maybe prisons are where we learn how to feed ourselves again," Foster said.
Foster, one of the Keystone "valve turners," was sentenced to serve one year in North Dakota prison last Tuesday in Pembina County. The 53-year-old had received a three-year sentence, but the final two years were deferred.
The valve turners are a group of environmental activists who stopped the flow of the Keystone 1 Pipeline in North Dakota, Washington, Montana and Minnesota.
Foster's sentence was brought on after being found guilty on charges of trespassing, mischief and conspiracy to commit criminal mischief. The warrant for his arrest was filed in October 2016 after his activist group filmed him breaking into the fenced-off area guarding the TransCanada pipeline.
Foster said he and his group called the local police and waited to be arrested after closing the pipeline.
Last Sunday, just two days before his sentencing, he and fellow valve turner Leonard Higgins were invited to speak at United Church of Christ in East Grand Forks, Minnesota.
Foster said his activism began in 2012 after the Deepwater Horizon disaster, when an offshore BP drilling rig exploded in the Gulf of Mexico causing hundreds of millions of dollars in damages to the surrounding environment and local economies.
He had been in support of "green" politicians, but found the Obama administration disappointing when it came to environmental policies and restricting the construction of pipelines.
"It became less of a political question," Foster said, "and became more of a societal question. As long as we're the customers and we're demanding this product, we're going to get more product."
Rather than being referred to as a radical activist or a sacrificial hero, Foster prefers to be called a conservative in regards to conserving the environment.
Higgins, responsible for closing the pipeline in Montana, also said the group isn't branding themselves as radicals and are trying to be perceived as ordinary citizens. Higgins sees it as "our duty as citizens" to protect the environment.
"The real crime was to turn to these pipelines back on and allow the continued flowed of the tar sands oil," Higgins said.
Higgins was convicted for his role in the plot in November and his sentencing is scheduled for March 20.
There had been some controversy surrounding Foster's pending sentence, as some were worried that North Dakota would try to set Foster as an example for this style of activism and push for a heavy punishment. Foster had been facing up to 23 years in prison.
According to Seattle Weekly, Ken Ward, the valve turner for Washington, was sentenced to 30 days of community service and no jail time.
As the day drew near to be sentenced, Foster said he was less concerned for his own personal justice and more concerned for those "on the outside."
"My life is going to get very simple if I'm in prison," Foster said. "I'm going to wonder what's for lunch. People on the outside are going to be trying to figure out how to live and how to take care of their kids."
As of Sunday, documentation for an appeal of Foster's sentence hasn't been filed.
Jacob Notermann is a staff writer for the Dakota Student. He can be reached at [email protected].