Little Bangkok
A welcome addition to our UND community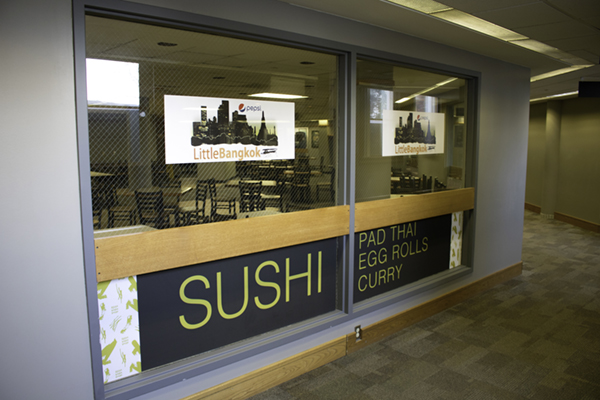 Little Bangkok is a well known part of the Grand Forks/East Grand Forks downtown, and recently they expanded to a new location in the basement of the Memorial Union. This new addition to our community called for a taste test so I, along with a cohort of review assistants, went to check it out.
My friend Katherine and I ordered the same thing: a Philadelphia sushi roll and a soda. The taste was everything our community has come to expect from Little Bangkok. The salmon had a strong, but not overpowering smoky flavor, and the avocado was the freshest I've ever tasted in a Philadelphia roll.
The sushi was well portioned. For someone with a small appetite, you can definitely score leftovers from a single roll, as I did. I was also pleased to leave satisfied, but feeling energized by the healthy meal. Katherine was also impressed. She commented on the overall quality of the house made sushi and the wide selection of soda. We were both content with the atmosphere.
You could tell the restaurant was a former dining center from its appearance, but the atmosphere was that of a restaurant: a few groups of people chatting quietly and enjoying their food, delicious smells wafting from the kitchen. There was a kind of calm and quiet there that you just can't find in a dining center, but with no less convenience. Katherine and I had our food in under a minute, possibly faster than you would get food in a dining center.
Our core team was assisted by three others, Seongeun, Justin and Hyebin, who had gone there a bit earlier in the day. They had different entrees, and all were first and foremost impressed with the value. All of their meals were inexpensive, and all three were taking leftovers home with them. The only concern they voiced was that compared to the downtown location, the menu was limited.
The Memorial Union satellite location had four entree choices, a number of side dishes and four sushi roll choices. It is, at least for the moment, a more limited menu than the downtown location offers, but still complete enough for everyone to find something to their liking. Vegetarian options were available too.
If you need a break from the dining center or packed lunches, Little Bangkok is a good option for a quick, healthy meal. The prices are reasonable, and the selection is adequate to satisfy anyone. The quality of the food is excellent, and the atmosphere is a welcome alternative to the chaos of the dining centers. Overall, I can recommend Little Bangkok in the Union, and would give it 3.5 stars. It's not anything fancy, but it's affordable, satisfying, healthy and convenient.