Athletes are celebrities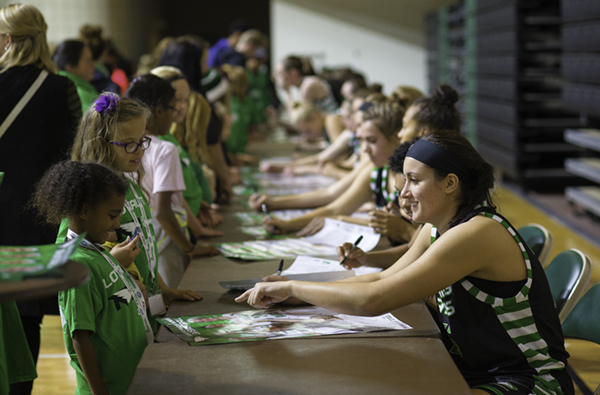 North Dakota is a great state in many ways, but for sports fans the state disappoints because of the lack of professional sports. We don't have the opportunity to get disappointed year after year about not making it to the Super Bowl, like our neighbors to the East. Sorry to all the Vikings fans out there… too soon?
On the bright side, not having any professional sports works out really well for the college teams. According to UND Sports, men's hockey averages over eleven thousand fans for every home game. According to Gopher Sports, the University of Minnesota men's hockey team averages less than ten thousand per game.
This might not seem like a significant difference except when you think about how many more people live in the Twin Cities than in Grand Forks. There are over fifty times more people in the cities than in Grand Forks and yet we still get more fans. Part of the reason this happens at our college games is because unlike Minnesota, there aren't as many games for us to attend.
Hockey isn't the only popular sport in North Dakota. We get a lot of fans for many sports at UND. It's a great environment. From personal experience, I'd say it's even better than professional games at times. I haven't been to a ton of professional sports games, but I have been to a couple Minnesota Twins games and Lynx games. The games were fun to watch, but the environment didn't have nearly as much team spirit as there is at UND. The Lynx and Twins fans weren't nearly as engaged in the game as the UND fans are.
Let's use the Betty as an example. When that gym gets packed for big games, there's nothing like it. I remember watching the volleyball team take on NDSU this past fall. The Betty was sold out and you could just feel the energy coursing through the gym.
As a basketball player for UND, there's nothing quite like playing in that special kind of atmosphere. Our fan base is amazing and there are tons of season ticket holders who have been loyal fans for decades.  As a UND athlete, it feels like we have the most loyal fans in the country. These people know us. There have been multiple times when a stranger comes up to me at a restaurant to talk to me about my game and they even tell me my own stats. That's when you know you've met a true fan.
Once, while I was out to dinner with friends after a win at the Betty, someone came up to our table to congratulate me on the win and talk about the game. My friend turned to me after they left and told me she felt like she was eating with a celebrity. In town, it really feels like that to me too sometimes. Being known out and about in town makes me feel like the LeBron of Grand Forks. That's a bit of an exaggeration, but it's a really cool feeling knowing that people care that much about your sport. I highly doubt that that is as common in bigger cities.
You don't get that kind of supportive fan base everywhere. UND is a pretty special place for that reason.