He's Hoff to the Olympics
UND's Ludvig Hoff named to 2018 Norwegian Olympic roster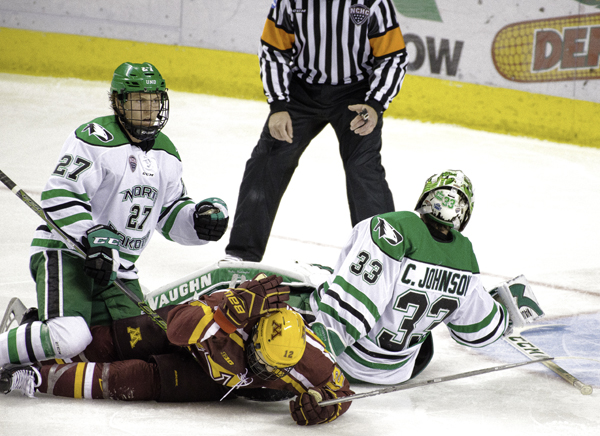 The NHL's decision to not allow NHL players time off to play in the 2018 winter Olympics in South Korea is now granting childhood dreams of many players across the NCAA.  
Will Borgen from SCSU and Troy Terry of Denver are headlining the NCHC on the USA roster for the games set in February. Another name was announced on Wednesday from the NCHC that would be participating in the 2018 Olympics.  
UND's first Norwegian born player to ever play in the program is now the program's first Norwegian Olympian, and only its second European Olympian. Ludvig Hoff learned early Wednesday morning that he would be playing for his home country in PyeongChang, South Korea for two weeks in February.  
"It was actually my mom that called me and told me when she was watching the sports channels," Hoff said.  
The sophomore center will be missing two series including a home series with Colorado College in February. Hoff, who has played on national teams starting at the age of 16, is now going to be following in his father's footsteps by playing in the Olympics. Geir Hoff played in three Olympic games: 1988 in Calgary, Alberta, 1992 in Albertville, France and 1994 in Lillehammer, Norway.  
"I was a little surprised. Obviously very honored. It's a childhood dream come true," Hoff said.  
"It's always been a goal my whole life. But I mean I haven't really had that in my mind this season. This season I've been trying to focus on hockey here," Hoff said.  
Hoff went to the trial camps over Christmas break when he returned home to Norway.  
"I was very nervous but the guys there made it very comfortable for new guys joining the team," Hoff said.    
Brad Berry got the call from Hoff immediately after his conversation with his mother Wednesday morning.  
"Very excited for him. To play on the Olympic stage is the ultimate goal," Berry said. Hoff will certainly be missed while he's away representing his country, but it may end up benefiting UND at the end of the season when he returns.  
"You always have a little hesitation if a player leaves your program because of risks of injury or having a player out of your lineup,"  Berry said. "We've always seen in the past with players going to the World Juniors that you always get a better player back. Hopefully, he's going to get experience and confidence and we'll see a better player when he gets back." 
2018 will be the first year since 1988 that NHL players will not be playing in the Olympic games. The IOC first allowed professional athletes to participate in the 1988 winter games. 10 years later the NHL allowed their players to play in the Olympics. 20 years after that, they're ceasing to allow players due to the timing of the season for the NHL.  
The lack of NHL players on Olympic rosters will allow other UND alumni to show their talent on arguably the greatest stage. Earlier this month it was announced former UND All-American Chay Genoway would represent Canada.  
More so, UND's former women's hockey program has six alumna making their names known including Johanna Fällman (Sweden), Jocelyne Lamoureux-Davidson and Monique Lamoureux-Morando (USA), Michelle Karvinen, Emma Nuutinen and Susanna Tapani (Finland). 
Nick Erickson is a sports writer for Dakota Student. He can be reached at [email protected]