It's Thome time
Goaltending change ignites big win for UND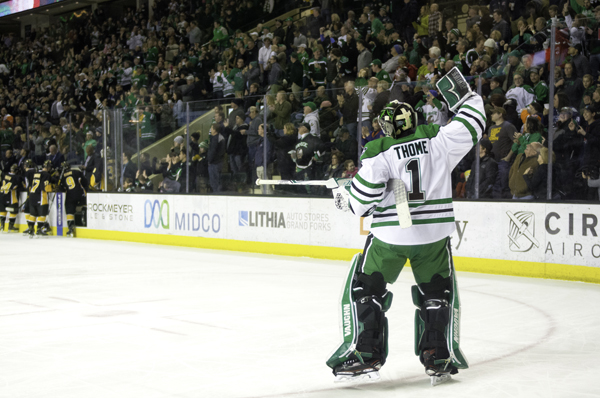 The night started out just like any other night at the Ralph Engelstad Arena. Except this time, there was a different number in net.
Peter Thome took over the game Saturday night against Colorado College by locking down all but one shot between the pipes for the team trying to fight their way back into the standings.
It's a well-known theory that a goaltending change can spark a fire in a team's morale. That change sparked something inside the UND offensive corps, which in turn generated their defensive mentality into offensive success.
The last time Thome started the game in net, UND won 7-0 against the University of Nebraska Omaha at home. Thome became the second freshman goaltender in UND history to record a shutout. A month later, he nearly recorded a second, only having allowed one goal off of an impressive 2-on-1 break.
This goaltender change couldn't have come at a more pressing time for the Fighting Hawks. UND hasn't won a game in a little under a month having lost a few games in the third period or in overtime during that month long stretch.
"This is the time of year where you're not worried about feelings," Berry said. "It's about team-first mentality. Whether you give a bump to the team, or give Peter (Thome) an opportunity, it's about the team-first mentality in trying to find a way to win a game."
Along with Thome being a big change in the lineup, Brad Berry decided to place Shane Gersich back on a line with Rhett Gardner and Austin Poganski, in order to shut down the top line of Colorado College. Only one point was generated by Colorado College's top line on Saturday night.
"Seaons have highs and lows," Berry said. "You can't get too high, you can't get too low. You've got to be a team. Everybody can handle the good times. You can be a winner. But when you don't have a lot of success with the result, you have to stay even stay tighter together. Our group is a tight group and they stayed together. I'm just proud of our guys."
That change sparked the offensive juggernaut that had been dormant for quite some time. UND scored the same amount of goals that they scored all weekend against Duluth, who is currently ranked ninth in the pairwise standings. They also scored more goals than they did when they faced-off against the second ranked Denver only two weekends ago.
Thome faced 21 shots and made 20 saves. UND is going to need nights like Saturday to come a lot more often if they want to continue their success in hopes of making the NCAA tournament. This coming weekend against the University of Nebraska Omaha, who has been a force at home in the second half of the season.
Thome and Cam Johnson have very similar statistics so far this year. Johnson maintains a 2.187 goals against average to Thome's 2.149. Thome also barely edges Johnson out in save percentage with a .917 to Johnson's .904. Considering the circumstances that UND is in, it wouldn't be a bad idea to continue with Thome. Johnson having lost or tied five of the last six. Thome has won two of his last three with one of those games being his lone shutout on the year.
It remains unclear if head coach Brad Berry will continue with Thome, or with his recreated line of Gersich, Gardner and Poganski. However, with the way that UND played on Saturday, it wouldn't be surprising if not many changes were made to the lineup going into a tough road series with Omaha.
UND is coming down to the end of the regular season and nearly every game will be a must win situation. UND dropped from eighth in the pairwise this weekend to No.12. However, they improved in the NCHC standings from being tied for fourth with Duluth, to being tied for third with Western Michigan. Good things are yet to come for UND men's hockey this season.
Nick Erickson is a sports writer for the Dakota Student. He can be reached at [email protected].