Bye, Bye, Bye
The importance of bye week in sports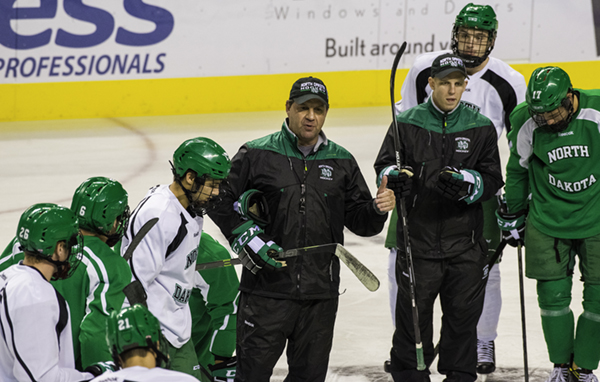 UND sat idle on a bye week this past weekend and it seems to be coming at a good time for them. They're 12-8-8 while being tied for fourth place with the University of Minnesota Duluth in the NCHC with only eight games remaining in the season.  
Head Coach Brad Berry seems to be optimistic about the season going forward due to this bye week timing for the team.  
"We didn't have a bye week in the first half, a lot of teams did," Berry said. "This comes at a good time on a few different things on a mental and physical break, as far as getting recharged and refocused for the remaining eight games."   
UND has not had their best year in recent memory having only been two years out from their last national title. But there are still hopes in making a major impact with their final few series that could lift them to a home series in the NCHC playoffs. This home series berth could give the team a boost and allow them to begin playing their best hockey at the end of the season, when it all matters the most.   
UND has been struggling the past few weeks with injuries occurring to some of their impact players this season. Rhett Gardner has been sidelined for a few weeks now, as well as leading scorer Nick Jones battling an injury as well having been held out of the lineup on Saturday of last weekend.  
These are two key players UND has needed in the lineup and will need in the lineup going forward until the pairwise is set at the end of the conference championship weekend. The bye week this year is giving them time to heal and come back stronger for their final push.  
"I think we'll probably get a couple of guys back from the injury list and infused into our lineup." Berry said, potentially foreshadowing the return of Nick Jones, who is hopefully joining the lineup sooner rather than later, Rhett Gardner's injury hopefully will not keep him out for much longer.  
This bye week is also going to allow for North Dakota more time to prepare for their more difficult matchups coming at the end of this season.  
UND is going to need to get past Colorado College, Nebraska-Omaha, Miami and St. Cloud State. The more difficult matchups of these final four series are with Nebraska and SCSU. UND goes into Nebraska to play a team that has been lighting up their scoreboard at home recently. Their last four home series they have scored 13, 15, 10,= and nine during those weekends.  
St. Cloud State is still a strong team this season as they showed this past weekend beating UNO 3-5, and 2-6 in the Herb Brooks arena. The series on the road with Nebraska-Omaha could be considered a potential measuring stick with how they could handle SCSU at the end of the season.  
 North Dakota is going to need a big push at the end of the year to make their position stick in hopes for a NCAA tournament bid come March. They currently stand in the eighth position just ahead of the University of Minnesota. However, the NCHC has a lot of teams that are in the hunt for jumping into the national tournament.  
The current leaders in the Pairwise rankings are Notre Dame, St. Cloud State and Denver. All three teams are tied for the lead after this past weekend. This can be a little concerning as North Dakota is three points from third place (Western Michigan) and 13 points from first. However, Brad Berry remains optimistic and steadfast with his process for the team going forward in the final push at the end of the season.  
 "We really get concerned about the rankings at the end of the year. You have highs and lows throughout the season. You get some adversity and you try to get through those things to make you a better team," Berry said.   
UND has faced some adversity and will continue to some in the remaining months losing Ludvig Hoff to the Norwegian Olympic team in February. Berry seemed hopeful that the return of the injured players will ease that adversity heading into the home series weekend with Colorado College.  
Nick Erickson is a sports writer for Dakota Student. He can be reached at [email protected]