Katie Moller finishes her best season
forward aids in record year for UND Soccer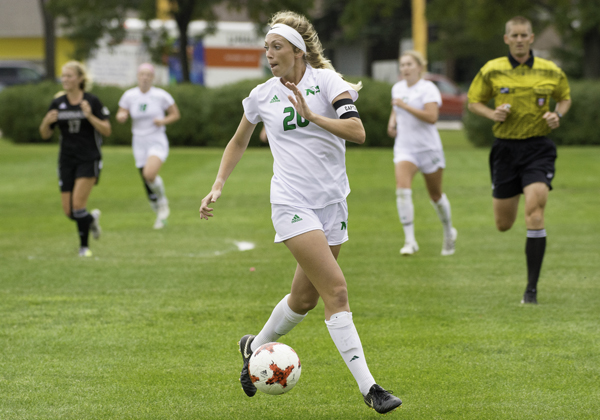 Katie Moller, a forward on the University of North Dakota women's soccer team, is coming off one of the best seasons of her career. Moller finished off the season with six goals and 15 points in Big Sky Conference play, totaling 10 goals and 23 points for the entire season.
She also led the conference in shots per game with 57 shots, averaging 5.7 per game. She tied second for the conference in goals, goals per game, points, points per game and game-winning goals. This impressive list of stats led to Moller being named to the Big Sky Conference First-Team.
Even with all of the accomplishments Moller has racked up over the season, she stays humble and credits her teammates and her coaching for the success.
"I was definitely not expecting (to be named to first-team)," Moller said. "Every day I just went out there and worked hard to help my team. I was never working toward that accolade. I just wanted to help my team out and play my role in that. It's a really cool honor."
A big thing that Head Coach Chris Logan worked towards during the season was the belief in the team and the belief that the team should have in each other. It is evident that this goal was accomplished and it was a huge reason for the team's success, as well as Moller's success, on the field.
"(Logan) is a huge reason why we did so well," Moller said. "He's always positive but holds us accountable when we're not performing at our best. And my teammates push me in training and encourage me in games. I can't become the player I am without them helping me every step of the way."
It's not always easy to improve once an athlete makes it to a high level of competition. Moller talked about how she worked hard to improve over the summer and scored a lot more goals this year.
A big reason that she came away with such a notable season was that she did the extra things that take it to the next level.
"I do think I improved a lot from last season," Moller said. "I was thinking back on the season which basically started this past January. All the times I said no to things and all the early morning workouts at home. I missed out on things so that I could get the training I needed. Extra practice time put in and pushing myself in training and in the weight room went a long way."
Although Moller has found an immense amount of success, she isn't ready to be satisfied with her accomplishments or the team's. She is looking forward to the season to come and thinks there is a lot of room for improvement.
"Overall, I'm so proud of where this group has come over the years," Moller said. "We all finally saw the potential we had to compete with anyone and actually win games, not just tie or lose by a little. I'm excited to get after the summit league with these ladies."
Madison Overby is a sports writer for Dakota Student. She can be reached at [email protected]