Track and Field takes the Drake Relays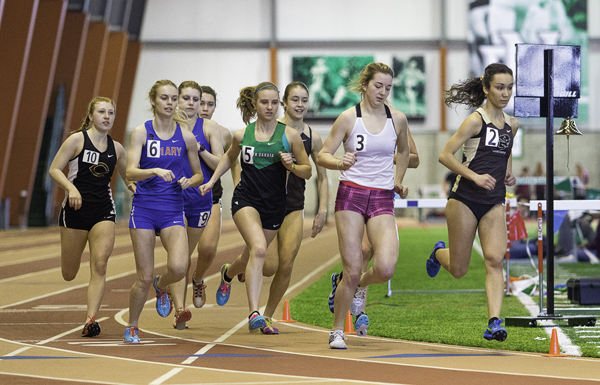 Hang on for a minute...we're trying to find some more stories you might like.
This week marked one of the final weeks in an abnormal season for the Fighting Hawks track and field team. With a tune up meet in Fargo next weekend and the conference meet less than two weeks away, the season is quickly winding down.
For a select few, this past week was filled with travel to one of the biggest meets in the nation, the Drake Relays.
Erica Eades had a standout performance in the Women's 800 meter run. She ran her best time in 2:12. Eades is happy, but not satisfied and used the weekend as a stepping stone.
"I think the race went well," Eades said. "I have some things to fix in my race like getting out, running a faster first lap and trying not to get boxed in with 200 meters to go."
Ian Collins and Matt Culhane just missed out on finals in the Men's Discus Throw on Saturday morning. They threw 48.87 meters and 48.70 meters, respectively.
The majority of the team travelled to Moorhead on Wednesday night for the Cobber Twilight meet at Concordia College and again on Saturday for the Ron Masanz Classic at Minnesota State University Moorhead.
At the Cobber Twilight meet, UND freshmen Hannah Anderson, Amanda Robbins and Ellyssa Peterson went 1-2-3 in the 800 meter run.
Two pole vaulters, Nick Krella and Alex Torp, also went 1-2 in the men's pole vault at the Cobber Twilight.
Janessa Mueleners was able to get in her first two steeplechase races of the 2018 season, the weather having cancelled the previous meets. She ran 12:20 seconds on Wednesday night to start things off.
Saturday proved to have slightly better conditions with the wind dying down and the sun coming out. The times on the track reflected these conditions.
Sydney Raboin, who has been training all season but had yet to compete because of class conflicts, was finally able to step out on the track. She did so with a bang, running a new personal record in the 5k in 18 minutes and 19 seconds.
Meghan Janssen won the women's 800 meter run in a season-best time of 2:16 seconds. She was joined by Amanda Robbins, who took two seconds off of her collegiate best and finished in 2:17 seconds in third place for UND.
On the men's side of the 800 meter run, Scott Kvidera ran a personal best by a couple tenths of a second to take third in the race with a time of 1:57.
Ellyssa Peterson, a standout in Wednesday night's meet as well, won the 1500 meter run in a time of 4:48.
The weather didn't only help the team on the track, but the field team had a standout day as well.
UND swept the discus throw. Kauri Hochhalter and Amber Hansen went 1-2 on the women's side and Chris Evenson won the men's division.
Nick Krella, who won the men's pole vault at the Cobber Twilight, also took the competition at the Ron Masanz Classic. He vaulted a personal best of 4.70 meters on Saturday which is equivalent to 15 feet and five inches.
The UND Track and Field team was able to keep busy across three meets this past week and weekend. Although the end of the season is coming quickly, the team is adapting just as quickly.
"Overall it was a good experience racing at Drake," Eades said. "I'm just excited to have another chance to compete and improve my time at conference."
With many personal and season bests this past week, it looks like it's going to be an exciting championship season for UND.
Madison Overby is a sports writer for Dakota Student. She can be reached at [email protected].