A veteran's take on kneeling for the anthem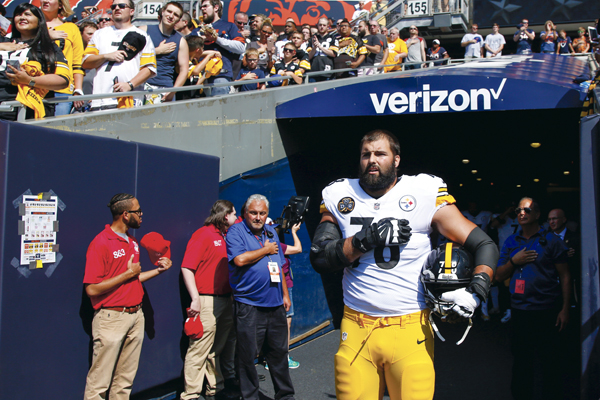 Hang on for a minute...we're trying to find some more stories you might like.
I'm a black Navy veteran and I believe in peaceful protest. Somewhere along the way it appears we have lost respect for people who choose to protest peacefully. The media has flooded the nation with the demonstrations that are violent and unacceptable. However, when people choose to protest in a peaceful matter, they are often criticized and frowned upon.
"
What people are failing to realize is that this is a form of peaceful protest"
— Glen Able, Contributing writer
A perfect example of this is the kneeling during the national anthem, which professional football players are currently doing. As a black male having served active duty in the United States Navy, you may be curious as to my position on this matter. Would I kneel or stand?
What people are failing to realize is that this is a form of peaceful protest. After witnessing how violent the protests on this one matter around the country have become, should we honestly be criticizing this method of it? How would you suggest a professional athlete protest this matter? Should he/she go stand on the street along with everyone else? Or better yet, maybe they should have a press conference stating how they feel about the matter and just forget they are not only representing themselves, but their team as well.
You might be asking at this point, "Why during the national anthem? That is not an appropriate time to be protesting." Technically, that's when the entire world is watching, so why not? What better time to get your point across than when you have the attention of millions of Americans? Is it not the right of every American to protest in a way he/she chooses? Isn't that why we volunteer to serve in the Armed Forces, to keep the ideology that this country was founded on alive?
The anthem means something different to every American. To me it represents the hopes, dreams, goals and peace of Americans. Shouldn't equality be the goal of this nation? People join and fight so we have the right to choose how we would like to protest, assuming it is in a peaceful way. Is that not what is taking place when the professional athletes are kneeling during the anthem? A peaceful non-verbal form of protest. If you disagree with this type of protest, would you rather something more violent and drastic take place?
As a black American veteran, would I kneel or stand? Personally, I would stand. Because that's my choice. I don't choose to protest in that way. At this point, you are probably calling me a traitor to my people – Uncle Tom, or whatever other insulting name you can manifest. However, I simply don't choose to protest this way. Yes, I absolutely stand behind black Americans fighting the racial injustice and police brutality and I show that support in my own way. I've volunteered and fought for this country and I've also volunteered in the community I grew up in.
But I don't choose to kneel during the anthem. I also don't look down on the athletes and Americans who choose to protest by kneeling because the bottom line is that it's their choice to protest that way whether you or I agree with it or not. I have absolutely no problem with peaceful protest. It's the right of every American to protest in a way he/she decides to, if it doesn't violate the rights of others. If this is the only way to start the uncomfortable conversation about racial injustice then shall be it.
People are choosing to focus on how they are choosing to protest rather than trying to solve the reason these players are acting in this manner but focusing rather. These are my thoughts on the matter and mine alone. I don't expect you to change the way you feel about this issue. I'm simply asking you to keep an open mind and not be judgmental. I hope this article has caused some type of emotion for you, my reader, and has challenged you to think about what is going on.
Before you criticize how people choose to demonstrate their opinion on a certain matter, ask yourself, "Are they doing it peacefully? Are they within their rights?" In my opinion there are much bigger issues than criticizing people who are protesting in a peaceful matter.
Glen Able is a contributing writer for Dakota Student