Fall Campus Safety Tour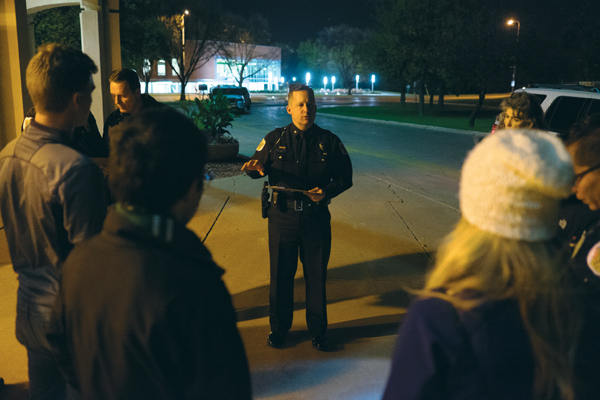 Thursday night a group of community members joined the University Police Department for UND's annual fall campus safety tour. Students, faculty, and community members were invited to come and join the UPD staff through their walk throughout campus. This provided participants with the opportunity to help UPD identify areas of campus that could be identified as dangerous at night.  An event that has been present on campus for a little more than 20 years, it has evolved from a lighting tour where members of the community come and get to know the police department while making UND safe. Over the past four years, this tour went from identifying burnt out lights to identifying potentially dangerous areas on campus.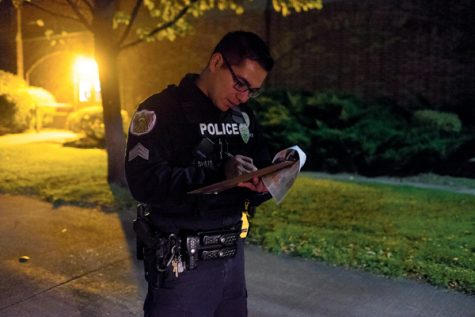 "I've been here, next week it will be five years, and and when I got here, the department of public safety took over the lighting tour. We wanted to recraft it into just more than lights. Looking at sidewalks, railings, overgrown trees, bushes, things like that. Walking across campus and finding areas that might make you cringe a little at night. We want people to walk across campus confident in their safety and security," Chief Eric Plummer said. 
"
Devon Abler, features writer"
— "Spending an hour with a cop and being able to ask any question about the profession or about the law system opened my eyes to the work that they do to keep the community safe."
There have been times where the turnout has been tremendous and other times when there are six or seven of us like there was on Thursday night. Chief Plummer handed out sections of the campus to the officers and I and other UND students each paired with an officer. We were instructed to keep our eyes open for burnt out lights, hazardous cracks in the sidewalk, areas of campus that would benefit from more lighting, and for any blue light emergency systems that were burnt out or not activated.
The blue light systems are designed for students to use if they notice an emergency or experience one themselves. They simply press the red button and the department will receive a call with the location of the blue light. Spending an hour with a cop and being able to ask any question about the profession or about the law system opened my eyes to the work that they do to keep the community safe.
While keeping the UND campus safe is the department's top priority, the department can also be seen keeping the Grand Forks community safe as well. Officer Ben, the golden retriever K9 unit for the department, and his handler Sergeant Jose Solis can be found assisting the Grand Forks Police department in identifying drugs or finding missing persons. He also serves as a therapy dog. By having a K9 unit, the department has been able to deepen relationships with the students here at UND.
"Resident Council purchased Ben for us as a gift," Sergeant Solis said. "Residence halls can also participate in the adopt a cop program where they adopt an officer for a semester and we come and get to know the students. I bring Ben along with me to visit the halls and get to know the students."
Maintaining strong relationships with the student's is a goal for UPD officers. These relationships have improved the views that students have of the police department. One of the students who joined the tour tonight, Parker Combs, received the email in his mailbox and was intrigued by the event.
"I saw the email and thought it would be interesting to come and see what this event was about. This has definitely improved my relationship with the department. Spending an hour with an officer helped me see them as more than just police officers. I was also able to use their flashlights and it was one of the best things I have used in my life," Combs said.
While the talk on campus might be how to avoid police officers, this department genuinely wants to know the student body and help students and the community.
"My door is always open," Chief Plummer said. "Students can shoot me an email or come stop by. I have this alligator in my office that makes for a pretty good story."
If you have any questions or want to get involved with other events that the police department is hosting, take a look at the University of North Dakota Police Department Facebook page or find them on twitter.
Devon Abler is a features writer for Dakota Student. She can be reached at [email protected]