New Homecoming court reigns over the weekend festivities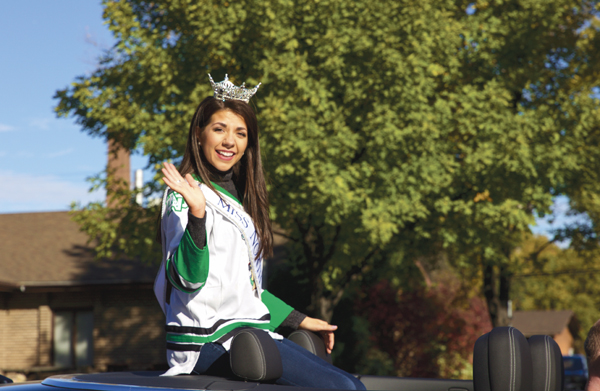 This year, the University of North Dakota decided to stray away from the well-worn tradition of crowning a Homecoming King and Queen. It was a more inclusive process as organizations nominated their members for a position on the homecoming court, resulting in a court of five school representatives to promote school spirit and encourage campus engagement. The five elected members of the court were Faith Maendel, Rachael Fix, Abigail Wright, Shawn McHale and Alyssa Dahle-Koch.
Best friends Rachael Fix and Faith Maendel, both members of the Pi Beta Phi sorority, joined the homecoming election together.
"My best friend Rachael and I nominated each other without really knowing that it was happening and it kind of escalated from there," Maendel said. "It was a fun process. A lot of my friends got involved by making a Facebook page for me."
Fix, an alto saxophone player in the Pride of the North Marching Band, has always been involved in homecoming festivities, but as a member of the homecoming court, she was able to experience the weekend in a whole new way.
"All the other nominees I've met somewhere along the lines of my UND life and I'm really good friends with them so it was kind of nice just to get to share that moment with them," Fix said.
Traditionally, the Homecoming King and Queen have used their position as a way to raise awareness for their chosen charitable causes.
This year, "the homecoming court as a whole will be picking an organization, which is super exciting," Maendel said. "We haven't picked one out quite yet, but I'm excited to hear everyone's ideas."
Besides philanthropy, a driving force for members of the homecoming court is a love of UND. Fix, who is pursuing degrees in both music marketing and athletic training, appreciates that the school allows her to be an individual.
"I just came here because I have a lot of hopes, dreams, wishes," Fix said. "(…) When I told all the other advisors I wanted to do all of these things – be involved in all these different organizations – they kind of laughed at me, and when I got here they said, 'Wow, that's a lot. We're going to be honest, we don't know if you can do it, but if it's something you want to pursue, there's resources here and everyone will be more than happy to work with you.'"
Fix also added that she wants to give so much back to the campus community because it has given her such a sense of belonging.
"My favorite thing is just walking around campus and seeing so many people that I know," Fix said. "I come from a small town. Everybody knows everybody and I didn't expect to find something like that at a university that has 15,000 people. (…) It really makes UND a home away from home."
Diane Newberry is the news editor for Dakota Student. She can be reached at [email protected]