Brands, the Bureau and Basketball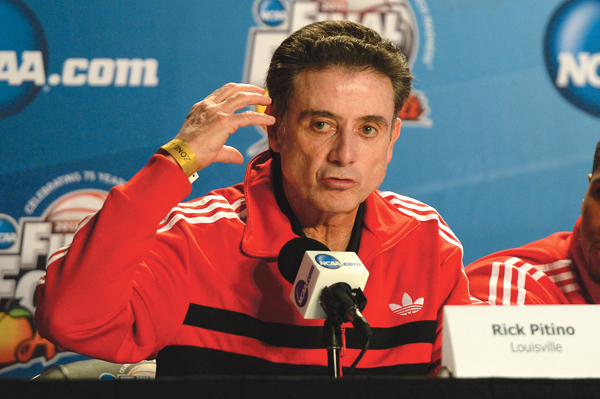 Scandals happen all over the nation on a frequent basis, but the most recent has shaken the college sports world. It's almost not a surprise that Louisville's basketball head coach is again in the middle of the controversy.
This week The New York Times announced the FBI's investigation into allegations, that Louisville had arranged with sports apparel giant Adidas to distribute $100,000 to a recruit if he committed to Louisville and signed with Adidas after he had turned pro.
"Effective immediately, Coach Pitino has been placed on an unpaid administrative leave," Louisville's interim president, Greg Postel said in a press conference "Coach's Pitino's employment will be reviewed at a later date."
Pitino said through a statement from his attorney, "These allegations come as a complete shock to me. If true, I agree with the U.S. Attorneys' office that these third-party schemes, initiated by a few bad actors, operated to commit a fraud on the impacted universities and their basketball programs, including the University of Louisville."
These allegations come with a large weight, considering the laws being broken in the allegations are federal bribery and fraud. Louisville is just one of the five schools being investigated. Arizona, Auburn, Oklahoma State and University of Southern California are all facing these allegations as well.
For most of the accused this is a first offense, but Louisville's basketball coach seems to be repeating history.
In 2009, the Karen Sypher sex and extortion scandal unfolded, Pitino and Sypher had a sexual encounter in 2003 at a Louisville restaurant and Sypher demanded that Pitino distribute money and cars after their restaurant affair. The sex was consensual, and Sypher was sentenced to seven years in prison in 2011.
A short six years later, a woman by the name of Katrina Powell published a tell-all book titled "Breaking Cardinal Rules: Basketball and the Escort Queen." She wrote about how she was involved with putting together parties involving exotic dancers and potential Louisville basketball recruits which all had been funded directly from Andre McGee, who was the graduate assistant at the time. Louisville then held themselves out of the NCAA tournament that year to enact sanctions upon itself.
Pitino was eventually suspended for five games for failure to monitor the program by the NCAA. Louisville then appealed the other NCAA punishment of having games vacated that had involved ineligible players. This is the scandal that most people will remember of Louisville. Pitino claimed to ESPN that he had had no involvement or knowledge of these parties taking place.
So in the height of these allegations, it's important to take a step back and analyze the situation at Louisville, specifically taking into consideration Pitino's involvement in this.
In the 2015 situation, he claimed to have had zero knowledge about the parties taking place. Now, he is also claiming he has no knowledge. Rick Pitino, having carried with him a lot of controversy, is now placed on unpaid administrative leave from the University of Louisville pending termination because his contract has a clause in it that states he must be told ten days in advance before he is to be fired.
Some are upset over the fact he is being punished for having no involvement in the activities occurring in these scandals and claims that he is innocent. On the contrary, is he actually innocent? Or is he guilty of something different that they were investigating in 2015?
He was suspended for five games due to his failure to monitor the team. Even if he wasn't directly involved in these scandals, but he is the head coach. Yes, he cut down the nets in 1996 with Kentucky, and in 2013 with Louisville, but is that enough of a reason to keep him at the head of a program when he just can't seem to get his own program under control with the law?
But his involvement in this scandal begs to be investigated. It's a necessary thing to realize that lightning doesn't strike twice in the same spot. But since it did here, there must have been a consistent factor in the wake of both of these scandals, and that would be Rick Pitino and his coaching staff. According to CBS Sports, Louisville has now lost two of its five-star prospects that would've been joining the program next season.
Nicholas Erickson is a staff writer for Dakota Student. She can be reached at [email protected]