WWE comes to Grand Forks
Seth Rollins discusses his career, why he loves tag team matches and the likelihood of "The Shield" getting back together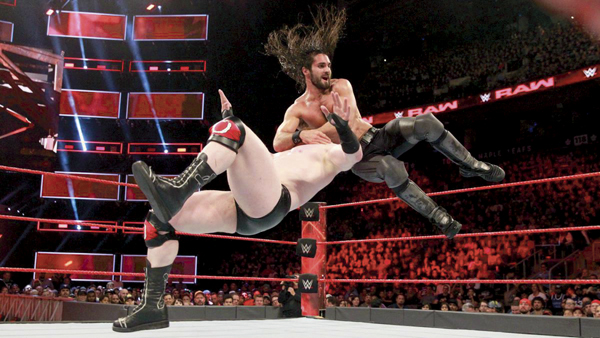 On the night of Friday, Sept. 29, the world of professional wrestling will make a brief stop in Grand Forks. Wrestlers such as Braun Strowman, The Miz and Roman Reigns will be performing in WWE Live at the Alerus Center.
Of particular interest to wrestling fans may be the inclusion of Raw Tag Team Champions Seth Rollins and Dean Ambrose, two-thirds of iconic wrestling stable "The Shield."
Rollins and Ambrose's recent joining of forces has been a surprising twist since it was Rollins who famously betrayed his teammates to Triple H and his stable "Evolution" in 2014.
"I started my career here in WWE as part of a three-man team 'The Shield' and we kind of (…) revolutionized the way people thought of what a team could be to the point where, obviously when we broke up, it was a huge deal," Rollins said.
Rollins explained that he enjoys tag team matches, not only because that is where he made his name, but also because there's a depth to it that doesn't exist in one-on-one wrestling.
"There's so much more chaos and it's a much more frenzied atmosphere and lot more could happen," he said. "You kind of got to have eyes in the back of your head a little bit. But, if you've got a teammate – someone you can count on and can trust like Ambrose is to me, it makes that a lot easier (…) and if you guys you know are on the same page like we are and have been for the last few weeks, good things come."
Rollins and Ambrose's reconciliation and domination of the tag team arena have fans daring to ask if a return of "The Shield" is possible.
To that, Rollins said, "We got a lot coming up. For me, who knows. Obviously right now I'm focusing on being the Raw Tag Team Champion. You know, a Shield reunion – who knows? I never thought Ambrose and I would be back together doing this, so if we got Roman on board, that'd be great, but we got a lot of stuff to deal with on our own. We got Cesaro and Sheamus breathing down our necks."
Rollins, Dean Ambrose, Roman Reigns, Cesaro and Sheamus will all be present at WWE Live Winnipeg, Manitoba at Bell MTS Palace on Saturday, Sept. 30.
Diane Newberry is the news editor for Dakota Student. She can be reached at [email protected]