Hawks logo perched across various campus sites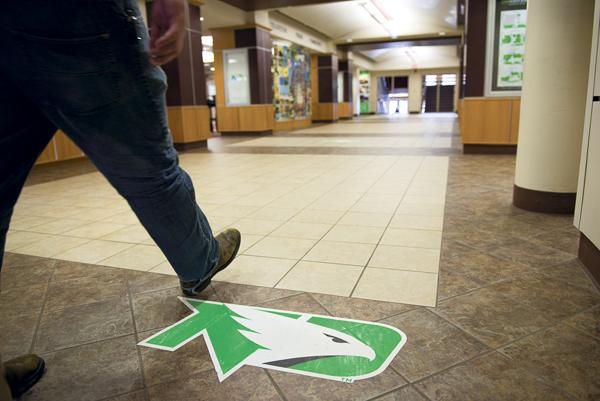 Students returning to classes after spring break might have noticed a change in their familiar stomping grounds: an impressive smattering of the university's new Hawks logo across campus in the form of new window hangings, murals and floor clings. Though many students have expressed confusion as to why the university chose to launch this campaign now, Interim Vice President for University and Public Affairs Peter Johnson clarifies that the redecoration is meant to be a celebration of UND's four conference championship wins in football, volleyball and both men's and women's basketball, as well as "a celebration of the new nickname and logo."
Breanna Linert, UND Licensing Coordinator, in collaboration with Marketing and Creative Services, spearheaded the effort, which Johnson says supports the overall "vision of the university." The decorations were placed during spring break in order to "change things up" and evoke a feeling of "renewal." Some students, such as Alexandria Stroh, note that many of the logo-emblazoned floor clings in high traffic areas like Wilkerson Commons are already peeling away, but according to Johnson, these smaller decorations were "not intended to be permanent." Larger decorations however, such as the new mural behind the student ticketing booth in the Union or the logo painted on the Alerus Center, are here to stay.
Student reactions to the school's push of the logo are predictably mixed. Stroh says that her "roommate is very heated about it," and feels as though it is inappropriate for the school to be spending any amount of money on branding amidst its current budget crisis. Senior Gavin Nadeau, on the other hand, says he "think(s) it's cool," and Emma Novak likely spoke for many when she candidly stated that she "didn't have any strong feelings about it." Logos and branding are not just meant for current students, of course, and they might play an important role in the recruitment of future generations of graduates. Tour guide Rebecca Gaida says that while she doesn't believe that many prospective students she had guided in the last two weeks have particularly noticed the special logo decorations, she thinks the school's push of the logo itself is "positive- it gives an image to the school. Students have a logo and mascot rather than just 'University of North Dakota.'"
Since the school stopped using its Sioux logo in 2012, the university's identity has been in limbo — not of the past, but not quite yet of the future due to the complicated circumstances under which the school was forced to change their logo and mascot. Johnson says that he is "heartened by the fact that (he) sees (the new logo) around campus" and believes that cultivating a strong identity is important even when it comes to the academic life and career goals of UND's students. "Comradery is important in pursuing even (students') academic goals" he states, and points out that job opportunities and connectivity in the greater world are often fostered by relationships made in college.
While it is understandable why many will continue to criticize the university for spending resources on a logo push when they obviously have much more important concerns to be addressing, some might find it encouraging that the school is focusing on making the best out of this opportunity and using its new brand to try and build a stronger social and educational experience for current and future students.
Diane Newberry is a staff writer for The Dakota Student. She can be reached at [email protected]