UND men's hockey Senior send off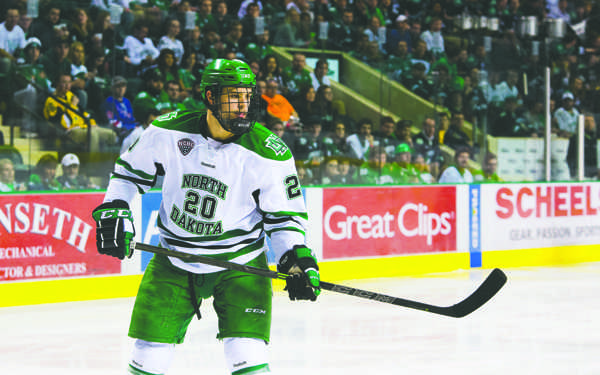 With the UND men's hockey team playing their final regular season games at the Ralph Engelstad Arena last weekend, it was bittersweet as fans said goodbye to another senior class.
This farewell was unique compared to recent sendoffs, as the 2016-2017 class consists of captain Gage Ausmus and goalie Matt Hrynkiw, the smallest senior class since 2005-06. Both came to UND in 2013 as freshmen and both left with a series split versus Nebraska-Omaha, in what could be their last games in a place they have called home for the last four years.
"Possibly the last series at The Ralph?" Hrynkiw said. "That's a shocker. We all remember moving into the dorms freshman year in Walsh and meeting everyone. It's hard to believe four years have gone by since that day. It goes fast, they tell you every year, but it still blows your mind every year how fast it does go. It's a special place. It's a special community. The building is electric every night. We're so, so fortunate."
While it could be their last home games, the Fighting Hawks are heading into an important matchup against Miami (OH) this weekend with crucial points on the line since the Hawks are currently tied with Nebraska-Omaha for fourth in the NCHC. If the Fighting Hawks come away with a series sweep against Miami (OH) on the road, they will set themselves up for home ice advantage in the first round of the NCHC playoff and give Ausmus and Hrynkiw one final opportunity to play at home.
"We just have to stay hungry that's the bottomline and stick with it and want it more than the other team," Ausmus said after a 3-0 loss to Omaha last Saturday. "I think we have the guys in the locker room, the skill in the locker room that if we want it more than the other team, we will be winning games and that's what it's going to come down, the compete level."
Whether fans will get the opportunity for one final goodbye or not, Ausmus and Hrynkiw leave a noticeable mark in UND hockey history as they have shared success during their collegiate careers together. Throughout their soon to be four years, UND boasts  two Penrose Cups, three Frozen Fours appearances, one NCAA championship and a record of 104-44-13. Additionally, if UND gets into another Frozen Four this season, Ausmus and Hrynkiw would join the 2007-08 senior class as the only UND hockey players to reach four Frozen Fours.
That kind of resume is something that the seniors have treasured being apart of.
"It goes quick," Ausmus said, "As a freshman, I would have never pictured myself in this position I am in right now. You just got to enjoy the ride and I've been fortunate to be here the time I was. I've been on some great teams so I've been very fortunate."
Yet, getting to this point was a long road for Ausmus and Hrynkiw, as they both spent time in junior hockey leagues before taking their talents to UND.
The East Grand Forks native Gage Ausmus spent two seasons with the U.S. National Team Development Program (NTDP) after one season with East Grand Forks High School. After a rather pedestrian first season with the club in 2011, Ausmus came back for the 2012-13 season and stuck out on a roster full of the nation's most talented juniors as he led the team in +/- (+17).
Along with playing for the U.S. NTDP, Ausmus spent time with the U.S. National U17 and U18 teams, which included winning a Four Nations Tournament title as part of the U17 team. With the U18 team, Ausmus had his most successful season offensively registering two goals and 12 assists, along with a second place tie in +/- (+22).
Hrynkiw, on the other hand, played three seasons for the Humboldt Broncos in the Saskatchewan Junior Hockey League (SJHL) prior to coming to UND. Showing drastic improvement in his three seasons, Hrynkiw led his team to a SJHL championship in his second season with the club, and came back for one more season posting an outstanding 1.83 goals against average and .939 save percentage. This paved the way for him to be named the SJHL Goaltender of the Year as well as Canada's Junior A Goaltender of the Year.
After Hrynkiw's sensational final season with the Broncos, he and Ausmus would head to UND as freshmen in 2013, along with Paul LaDue, Keaton Thompson, Troy Stecher, Luke Johnson, Wade Murphy and Adam Tambellini.
Stuck behind Zane McIntyre, Hrynkiw did not see any action in his first two seasons with UND, but Ausmus would get a taste from the beginning.
After playing 21 games in his freshman season, Ausmus played 42 games as a sophomore and became a respected player in the locker room, leading the club in blocked shots (95) and +/- (+15). Over the course of the season, he arguably became the team's most reliable defenseman with his best game coming in a NCHC playoff game against Colorado College when he blocked a UND record 9 shots.
Coming off an admirable sophomore season, new head coach Brad Berry affirmed the strong reputation Ausmus gained in the locker room during his sophomore season with an announcement heading into the 2015-16 season.
"We are very proud to name Gage Ausmus captain of the North Dakota men's hockey program," Berry said. "Gage was a decidedly overwhelming choice from the players' and coaches' standpoint. He possesses all of the qualities that reflect our program's culture, including strong character, respect, loyalty, humility and work ethic."
While UND has had junior captains in the past, Ausmus became the first junior captain since Matt Smaby captained the 2005-06 team. The choice of Ausmus showed just how much confidence the team had in the defenseman, especially with the likes of seniors Drake Caggiula and Bryn Chyzyk on the team.
Yet, as honored as Ausmus was to be named UND captain, his focus was on leading his team to continued success with the end goal of winning a national championship after two straight Frozen Four exits during his first two years at UND. 
"Our whole leadership group, we have great experience through the past two years," Ausmus said. "We've been to two Frozen Fours and won a Penrose, we've also started slow, we've started hot. I think it's just making sure our young guys are prepared at the start of the season and make sure we can keep that rolling."
They definitely kept it rolling. Under direction of Berry and Ausmus, UND went on to a 34-6-4 record and took first place in the conference for another Penrose Cup. Yet, there was an unexpected major contributor to their success. His name… Matt Hrynkiw.
During the Hawks' third game of the year at Bemidji St., starting goalie Cam Johnson went down with an injury forcing Hrynkiw to make his first collegiate appearance in his junior season. In relief, Hrynkiw led the team to a tie and got his first start the next day versus Bemidji St. in which the Hawks won 5-2 at home, giving Hrynkiw his first career win.
"He wants to prove to everybody that he's not just a third-string goaltender," Berry said at the time of Hrynkiw's takeover as starter for the injured Johnson. "He wants to prove that he can play."
Hrynkiw proved just that, as he took over the net for the next 10 games after his first victory. Including his first start and win, Hrynkiw went 9-2 with a 2.12 goals against average and .915 save percentage. He also posted two shutout performances against Vermont and Colorado College. 
The outstanding play of Hrynkiw helped UND get off to a 10-2-2 start and allowed Johnson to fully recover from his injury. From there, Johnson led the crease, as he went on to have one of the best seasons for a goalie in UND history posting a 24-4-2 record, along with a UND record .933 save percentage and a 1.66 goals against average.
Hrynkiw finished his junior season with a 10-2-2 record, while registering a 2.13 goals against average and .910 save percentage. Hrynkiw's 10 wins gave UND their first 10-win goalie duo since Jake Brandt and Jordan Parise in 2003-04.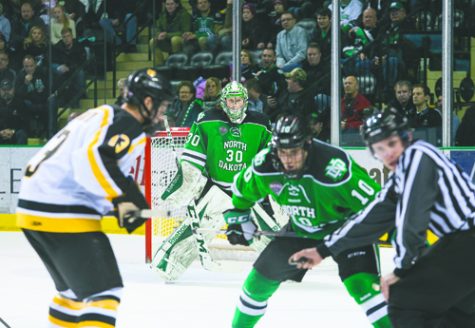 The veteran defensive unit led by captain and once again, leading shot blocker Ausmus, along with fellow junior defensemen LaDue, Thompson and Stecher, helped pave the way for the goaltenders' fantastic seasons and ultimately, the team's overall success outside a fourth place finish in the NCHC playoff.
While the NCHC playoff finish was disappointing, the Hawks did not lose momentum heading into the national tournament as UND went on to claim its' eighth national championship in a 5-1 win over Quinnipiac on April 9, 2016 in Tampa Bay, FL.
For Ausmus, Hrynkiw and the rest of the team, the win was monumental, as it was the first time since 2000 that UND hoisted the national championship trophy.
"This is the greatest feeling I've ever had, just knowing in years past how hard it is to do this," captain Gage Ausmus said. "It's unbelievable. It means everything to my family and all the guys in this locker room and everyone back in Grand Forks. I think we definitely earned this."
Coming off such a special season, the team changed heading into the current seniors' final season. UND lost nine players, including Ausmus and Hrynkiw's classmates LaDue, Thompson, Stecher, and Johnson, who all left for the NHL.
Nevertheless, Ausmus and Hrynkiw decided to come back to defend UND's national championship for their senior seasons and once again, Ausmus was named captain for a second season, while Hrynkiw would head into another season as Johnson's backup.
Currently, Ausmus sits at two goals and six assists and for a third straight year is leading UND in blocked shots with 64.
Hrynkiw has played in four games, including two starts, posting a 1-3 record with a 1.93 goals against average and .915 save percentage.
Although this season has been challenging with UND's national tournament status far from determined, Ausmus and Hrynkiw hope to lead the Hawks back to the national tournament with strong play down the stretch and from there, hopefully get to another Frozen Four and national championship game with the opportunity to repeat as champions and go out on top.
"Right now every guy in the locker room needs to realize what's on the line and what's at stake here," Ausmus said. "We have to play with our backs against the wall now."
At the least, they have used their time and experience to better a team full of young talent that has the ability to continue on the historic success of men's hockey at UND.
"They have done a good job leading our guys, being vocal, and teaching our guys one on one," Berry said. "They are a big part of our leadership group and they have done a really good job this year."
When the season finishes, Ausmus will likely sign a professional contract with the NHL's San Jose Sharks, who drafted him in the fifth round in 2013.
As for Hyrnkiw, he would need a professional team to come calling for his services in order to continue his hockey career, as he has not been drafted. That being said, he has made the All-NCHC Academic Team in each of his seasons at UND and will finish up a major in mechanical engineering, which should give him plenty of opportunities after college.
Yet, as the season gets closer to becoming a part of the history books, let's keep in mind the legacy that will be left behind by Ausmus and Hrynkiw. Let's be thankful and appreciative of our UND 2016-17 senior class which has the chance to be known as the best class to have ever skated for our University of North Dakota.
So, with that, thank you, seniors, thank you. May your legacy live on forever.
Jake Andersen is a staff writer for Dakota Student. He can be reached at [email protected]