Hairball rocks the Alerus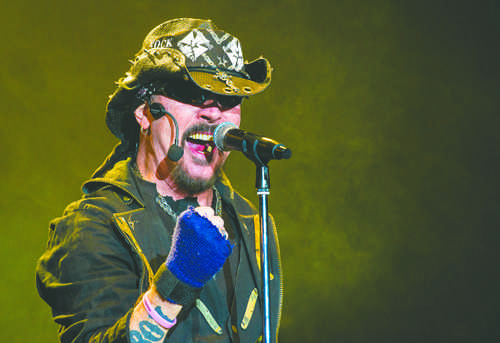 It was nothing but a good night Friday Feb. 10 when Hairball paid a visit to the Alerus Center. The eighties hair metal and arena rock cover band puts on quite a performance, complete with an explosive pyrotechnics and light show. Grand Forks rock 'n' roll fans of all ages came out to dance and sing along to their favorite classics by Van Halen, KISS, Journey, Poison and more.
Led by vocalists Bobby, Steve and Joe Dandy, Hairball puts on a unique rock 'n' roll event. Each frontman takes turns singing a two to four song tribute to a different arena rock legend. During the set, the vocalist will be dressed in full hair, makeup and costume reminiscent of the artist they are covering. One minute you're jamming to "Panama" with David Lee Roth and the next you're belting out the words to "Don't Stop Believin'" with Steve Perry.
While the vocals are the center of attention, Hairball wouldn't be Hairball without the electric, hard rocking talent of the band. With "Happy" on lead guitar, "Freaky" on the bass, and Blake on the drums, Hairball takes the energy of the eighties and brings it to life.
Quoting the band's website, www.hairballonline.com, "These rock 'n' roll soldiers pride themselves on nailing some of the most memorable licks and chops of all time… These guys live and breathe rock 'n' roll!"
"A bombastic celebration of arena rock," this group separates themselves from the countless bar bands and cover groups across the country. The band doesn't just play the songs, they put on a show. Their goal is to pay homage to and capture the spirit of hair metal: the energy, the showmanship and the 'larger than life' atmosphere that went hand-in-hand with the concerts of the eighties. As long as Hairball is around, tirelessly traveling and performing, that spirit will never die.
At 7 p.m. Friday, the stage was set and people starting filling into the Alerus. I saw all kinds of people walking around, ready to rock. A great number were older people, excited to jam out to the music they grew up on. It makes me happy to see that because I know when I get older, I'm going to be doing the same thing. On a side note, isn't it weird that when we're older, the music we like now is going to be to the next generation. Like how classic rock is to us now?
What made me really excited was seeing how many people my age and younger came out to the show. It just goes to show that rock 'n' roll is not a trend; it stands the test of time. Even if you don't like listening to Journey, Whitesnake and AC/DC, the energy and vibe that Hairball creates is enough reason to at least check them out once.
By 8 p.m., it was on. The Ron Keel Band started the party with some Molly Hatchet, Judas Priest and others. While they weren't the most amazing band I've ever heard, they were enough to get the crowd warmed up and ready to go.
Everyone from the front row to the top of the stands was rocking out and singing along. The best thing about live music, for me, is that it can take a crowd full of strangers and turn them into one entity of movement, energy and excitement. With the boys of Hairball at the helm, the people in the Alerus, young and old, transformed into one chorus of pure fun and rock 'n' roll.
Music, to many of us, is more than just melodies and rhythm. It's a pastime, an escape and a lifestyle. It's more than a feeling. It can be a slow ride or a crazy train. No matter what genre you enjoy, you know exactly what it means to you.
Hairball exists for the people that like to rock 'n' roll all night and party everyday. If that describes you, go out and party with the boys next time they're back in town.
Ben Godfrey is a staff writer for The Dakota Student. He can be reached at [email protected]