Integrated Studies Program faces the danger of being cut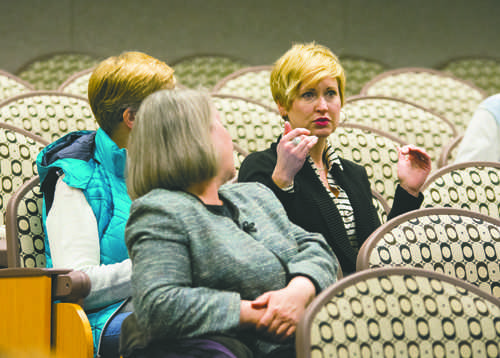 On Thursday Feb. 2, Debbie Storrs, Dean of the College of Arts and Sciences, in response to a university-wide requirement for all areas to propose budget reductions, announced her plan to lower the number of instructors in the College as part of this most recent round of budget cuts. To meet funding cuts in previous years, Storrs reduced the number of graduate teachings assistants, operating expenses and instructional costs within the college.
One of the areas which could be most affected by the 12 percent budget reduction is the Integrated Studies Program (ISP). Currently, there are four faculty members and a staff member in the program who are not on a tenure-track. The college will likely eliminate those five positions at the end of the school semester.
"Colleges have been asked to put forward a proposal of cuts at the 12 percent mark, but of that 12 percent, as I understand it, only a little bit more than half is required by the state," Tami Carmichael, Director of the Integrated Studies Program, said. "The rest is made up of a tuition shortfall," as a result of lower enrollment numbers, and there will be some amount taken to be reinvested by President Kennedy in university strategic initiatives.
Colleges across the university will have to make many tough decisions. To meet previous budget cuts, deans have trimmed their budget in many different ways, but now the number of faculty positions within a college may be reduced.
"The dean is not making this choice because she doesn't value what we do, she's making this choice because she has to provide cuts and the only thing she can cut are salary dollars, and the only salary dollars she can cut are people who are nontenure-track," Carmichael said.
The four ISP faculty members up for having their contract terminated after this semester do not have large salaries. "Cutting my faculty is a very small cut in the overall amount of College budget cuts, because their salaries are much lower than most other faculty at UND and some of them don't have any benefits because their benefits are attached to their spouses who are also employed at UND," Carmichael said. "But if the cuts occur, ISP will sustain a 72 percent budget cut."
If ISP is deemed too important to be eliminated, the program will be saved from reductions in their budget.
"Now it could be the case that the provost or the president decides ISP is too important or the College of Arts and Sciences shouldn't sustain such high cuts, so we won't take that much," Carmichael said. "We could get some of this back — none of the cuts are definite yet."
UND has made interdisciplinary learning a focus by integrating college coursework.
"Ironically, There's a huge push and a huge recognition across all levels of this university that Interdisciplinary thinking, learning and research is really important and that "high impact" teaching practices are crucial to retaining students and having students be successful," Carmichael said. "The Integrated Studies Program accomplishes both."
Carmichael believes strongly in ISP. "We're one of very few programs like this in the United States," Carmichael said. "So it's also difficult for me to see it diminish because it takes away, I think, from one of the unique signatures of who the university is and what it has to offer students."
"Students won't be caught short," Carmichael said. In other words, students pursuing and Interdisciplinary Studies major will be able to continue in their coursework and graduate on-time.
In an email to current and former ISP students Carmichael said, "There is no doubt that this is the worst financial situation UND has encountered in modern times — and many fear it will get even worse. The future of higher education — of education in general — in North Dakota will be impacted by these legislative decisions for a long time to come."
Nick Sallen is the editor-in-chief for the Dakota Student. He can be reached at [email protected]