Let's "wing" it
Things were getting hot in the dining centers this week.
Since Mon. Jan. 30, roughly 55 students took part in the annual Wing Challenge where participants eat increasingly hot wings throughout the week to win a t-shirt.
The contest rules are simple. Each day of the week, the contestants must eat five wings down to the bone. No time limits. No distractions. More importantly, no milk. The contestants are only allowed to have water to cool their tongues between bites.
If a contestant finishes all 25 wings by the end of the week, their names are entered into a raffle for a wing challenge t-shirt.
With every passing day, the chefs make the wings hotter and hotter. Handling the heat is the real challenge.
"They compare to your local establishments like Buffalo Wild Wings or something along those lines," UND Kitchen Manager Joe Kelly said.
For many students, taking a heat-food challenge seems like an unnecessary risk to one's well-being. What with a stressful day of classes, it's nice to just relax with a meal that won't intimidate you.
For some students, it takes a little bit of motivation… from the food staff.
"At first they're kind of leery, but we talk them through the concept of the actual challenge," Kelly said. "They seem to get a little more relaxed when that happens."
Then, there are students who dive right in.
Logan Short is a freshman from Mississippi and he grew up on a spicy-southern cuisine.
"The spicier something could be, the better it tasted," Short said.
Short has taken a challenge like this before. In fact, he won the t-shirt raffle for the Chili Challenge from last fall. To him, the t-shirt was not important. He had completely forgotten about the raffle until an email told him he won.
To prepare for the wing challenge, Short emphasized the mentality it takes just to enter the contest.
"The first day, you walk and just gotta think about all the spicy foods you've had before and say, 'This isn't gonna be that bad,'" Short said. "Or, if you're a crazy person that likes it, then you think 'this could be the spiciest food I've ever had and I'm looking forward to it.'"
As for physical preparation, it's much simpler.
"I just know that I gotta be hungry," Short said.
Short's excited attitude towards the challenge counters the attitudes of his friends. Short endlessly attempts to have his companions join in various food challenges.
"Everyone's always like, 'It's not that bad,' and then I'll try it and probably die," UND freshman Liz Birch said. "Everyone has their own taste buds. Even my brothers eat hot foods, I'm just the weird one that doesn't."
Her roommate, Heather Lillystone, joined in the challenge. She does not possess the same confidence her friend and neighbor, Short, has.
Lillystone felt comfortable with the first two days of wings when the flavors were Cajun bbq and Caribbean jerk. It was the next few days she was concerned about when the spices really kick in with mango habanero, Asian fire and the final plate being chipotle honey.
"If it gets uncomfortable, I'm not gonna [finish the wings]," Lillystone said. "I will attempt every day, but if it's too much I'll say 'no thanks.'"
For those not partaking, students are still able to enjoy the show. All of the wings are eaten in front of the student body.
"It's just funny when they cry because it's too hot," Birch said. "They'll be eating something and five minutes later they say, 'Oh, there's the burn.'"
Students who complete the challenge have every right to a sense of pride. But for some students, pride may turn to arrogance. After winning the Chili Challenge last fall, Short is confident he will become the LeBron James of UND food challenges
"I'm gonna win the next year and the year after that," Short said. "I will be buried in my Wing Challenge t-shirts."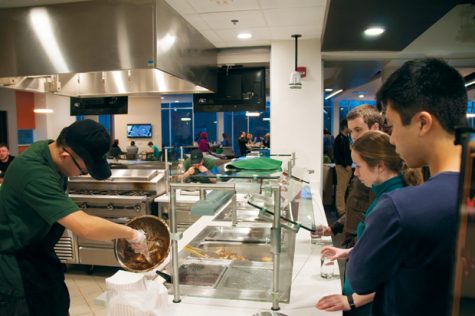 Jacob Notermann is a staff writer for the Dakota Student. He can be reached at [email protected]